A yellow snow and ice alert, which is in place from 4pm today to tomorrow morning at 9am, warns Britons of possible injuries from slips and falls on icy surfaces amid the sub-zero blast. The blistering cold is also set to cause travel chaos as the Met Office warns ice is likely to cause longer journey times by road, bus and train services.
According to WXChart weather maps, parts of the UK could be blanketed with up to 5cm of snow next weekend as the mercury continues to plummet.
Looking ahead to the following week, the temperature in parts of Wales and Scotland is expected to plunge below freezing while the south of England will experience milder mornings ranging from 2C to 5C.
With temperatures expected to plummet, forecasters have raised alarm bells for a significant Sudden Stratospheric Warming (SSW) event, which may hit the UK within the next few days.
The weather event was also linked to the Beast from the East which brought heavy snow and sub-zero temperatures to the UK back in 2018.
READ MORE: Teenager helps save man and dog after car plunges into icy lake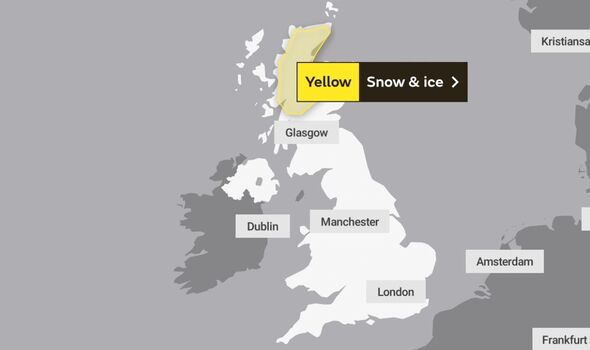 A SSW event is "now likely", according to forecasters – and could bring the return of bitterly cold conditions before spring.
SSW is a phenomenon when "rapid warming occurs high up in the stratosphere", according to the Met Office, but it can have consequences in weather on the surface in the weeks that follow.
This rapid warming in the stratosphere, ranging between 10km and 50km above the Earth's surface, is so high that residents don't feel it on the ground.
DON'T MISS
UK could send fighter jets to Ukraine as Zelensky visits Number 10 [REVEAL]
Queen Margrethe of Denmark to undergo 'extensive' back surgery [INSIGHT]
Sergio Perez reacts to Daniel Ricciardo Red Bull rumours [UPDATE]
Exacta Weather's James Madden said: "The upcoming Sudden Stratospheric Warming should now be a major one.
"It means we are now facing extensive cold and snow later in February and into the start of March.
"This could delay any spring warmth by several weeks, meaning temperatures might not recover until the back end of April, or even later."
While the Met Office has played down concerns another Beast from the East is on its way, forecasters have warned a significant cold blast is likely.
Current forecasts "are not showing any major cold snap for the UK as a result of the current SSW", Sky News weather has said.
They continued: "That doesn't mean we won't have cold spells – it's cold now, after all, but that's due to the normal progression of high and low pressure systems and nothing to do with an SSW."