A rare 1971 Ford Capri with one owner from new is being offered to the highest bidder at a UK auction next month.
The keeper is parting with his cherished 1971 Ford Capri 3000GT XLR 'Comanche', which is not only incredibly uncommon but has also featured on the BBC's nineties show The Car's the Star, hosted by former Top Gear front man, Quentin Willson.
With Capri values skyrocketing in recent years and breaking auction records in 2022, the vendor has decided it's the best time to part ways with his beloved motor. 
With just 36,946 miles on the clock and a fully-documented history in the hands of its one and only owner, Classic Car Auctions is expecting it to be sold on the weekend of 25 March for between £50,000 to £60,000.
What makes this Capri a 'remarkable find' is the fact it's a 'Comanche' conversions, which was handled by the legendary Jeff Uren.
Engineer, Ford team manager, 1959 British Saloon Car Champion and entrepreneur, Uren is probably best known for his bespoke conversions of Ford Cortinas, Capris and Escorts in the late sixties. 
Approximately 1,700 modified Fords – around 1,100 of them being Cortina 'Savages' – emerged from Jeff Uren Ltd in Hanwell in the London borough of Ealing.
However, the single-ownership Capri Comanche must be one of only a handful to remain, especially as very few were converted by Uren, who died in 2007 at the age of 81.
This 1971 car is finished in 'Maize Yellow' with a black vinyl interior and matching black vinyl roof. 
It starred in The Car's the Star in 1994 and has received regular magazine features over the years.
Having come off the production line as a Mk1 Capri, the 'Comanche' conversion consisted of uprated gas flowed heads, high-compression pistons, bigger camshaft, re-jetted carburettor and were topped off with an oil cooler and electric fan giving an additional 55bhp over the standard Essex 3.0-litre V6 petrol engine.
With three engine options – 170, 180 and 190bhp – 'FYB 846K' was the lucky receiver of the most powerful 190bhp package.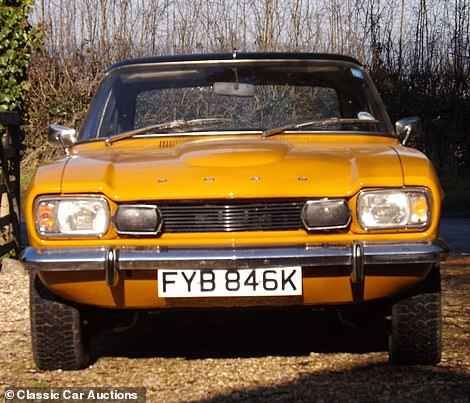 Suspension was also upgraded and some modification was made to make the car lighter. 
Supplied in 1971 by Whites of Taunton – which was a main Ford Dealer – to its one and only custodian from new, they have covered an average of just 710 miles each year since then.
Classic Car Auctions says the car has been kept under wraps for a long portion of its latter life and the vendor, who's identify is not being revealed, has decided to put it to the highest bidder knowing that the value of quality Capris today is staggeringly high.
'It has never been for sale until now and is therefore fresh to market and a genuine slice of Blue Oval Fast Ford history.
'With just 36,000 miles, it's an unrepeatable lot,' a spokesperson for the motor auction house said.
Hagerty UK's classic car valuation tool – which is based on auction and private sales of collectible cars – says a standard 1971 Mk1 Capri 3000GT in showroom condition today is worth £37,500.
However, the rarity, single custodianship and full history boasted by 'FYB 846K' will likely see a winning bid much higher than that.
The record winning auction bid for a Ford Capri is a whopping £74,250, which was achieved in June last year, also at a CCA sale.
The record-breaking Capri was a one-of-a-kind model – which has been called the 'Holy Grail' of Fast Ford –  that eclipsed the previous record amount paid for one by £20,000.
The Capri will be offered at CCA's first sale of 2023 at the Practical Classics Classic Car and Restoration Show 25 and 26 March at the NEC in Birmingham.