LIVE – Updated at 03:30
Follow the day's news live.
03:30
Chris Bowen upsets Paul Fletcher once again with his dixer answer which includes:
When the member for Hume (Angus Taylor) is not congratulating himself on Facebook, he is in a debate with himself about policy.
and
They are against our policies and against their own policies, Mr Speaker. This is what you have when you have a Leader of the Opposition with no ideas of his own and no vision for our country, not prepared to act in the national interest.

We know that members opposite know that these policies are in the national interest and yet they still vote against it.

This is what happens, Mr Speaker, when you have a Leader of the Opposition who is all opposition and no leader.
03:28
The Greens member for Brisbane, Stephen Bates has a question on housing – particularly, affordable housing (this is not his first on this topic)
My question as to the minister for housing. There are 36,566 dwellings under the National rental affordability scheme across the country was Queensland home to almost one third of these. All are to be removed from the market by 2026 but the government's housing future fund has only promised 30,000 affordable homes over five years. As rent and interest rates continue to skyrocket has the government acknowledged that this plan does not even account for the loss of housing let alone deal with the scale of the housing crisis?
Julie Collins:
The Albanese government does understand that safe and affordable housing is important to the security and dignity of all Australians and we want every Australian to have the security of having a roof over their head.

Indeed, the scheme, the national rental affordability scheme will provide regional accommodation to around 55,000 Australians that was abolished by the former double and eight years ago.

Eight years ago they cancelled that and homes since 2018 when the 10 year agreement expired.

There is no sugarcoating that challenges exist which is why we have a $10 billion housing Australia future fund which we introduced into the parliament today.

The scheme is a perfect example of the neglect from those opposite to destroy housing over the last decade.

Our solutions along term and provide certainty and stability with the fund there in perpetuity and returns being invested… .

After $575 million to immediately invest in social and affordable housing and these projects are under way today.

I have already made announcements around the country about some of these projects.

Of course, the 30,000 social and affordable homes that will come from the housing Australia future fund and then on top of that we have the accord which we agreed and announced in the last budget between state and Federal Government and, of course, our 30,000 is on top of what the states and territories are already doing. The last government's $350 million in addition will be 10,000 additional homes that will be added to by the states and territories with another 10,000 affordable homes and, of course, there is the aspiration for the accord of 1 million homes across the country over five years.

I also put forward our regional first home buyer guarantee that has already helped 1700 Australians into their first time in regional Australia.

We have a government equity screen that scheme and, of course, a national Housing supply and affordability council that we introduced into parliament today will be working with all of the other tiers of government to provide advice, independent advice about how we get more homes on the ground more quickly right across the country.
03:22
Things do not get any better.
Anthony Albanese:
I thank the deputy leader for her question. It is quite an extraordinary question the way that it's put. It seems to … It seems to ignore the fact … that the Reserve Bank of Australia … is an independent body. That's the first point I would make. And I don't need an economics degree to know that. You don't need an economics degree to know that.
(There are a whole heap of interjections during all of this.)
Albanese:
But apparently that's beyond the capacity of those opposite. The second thing that I will confirm is that the economy started growing, of course, under Bob Hawke and Paul Keating. It grew for 30 years. And …
"When did it stop?'' Jim Chalmers yells out.
Albanese:
It grew even when the entire world went into a global financial crisis. The economy continued to grow.

When did a recession come? Who was in government? And when a recession comes, the Reserve Bank … in order to stimulate the economy.
Sussan Ley has a point of order:
On relevance, Mr Speaker. Can the prime minister count to 100?
Milton Dick has had enough:
I have been more than tolerant with this abuse of Standing Orders. This is not the first time the deputy leader has done this. As much as I don't want to do this, she will leave the chamber under 94(a) for abuse of… Order. For abuse of Standing Orders. Order! Order!
Ley leaves and Albanese continues:
When the recession occurred under the former government, what Reserve Banks and central banks around the world do is that they support the stimulation of the economy. So, therefore, you have a reduction in interest rates. Then when there's global inflation, around the world Central Banks increase interest rates. That's what occurs. The level of debate that we are having here is just extraordinary from those opposite. I mean, this is the alternative government of Australia.

And the shadow treasurer who refuses to ask a question of the treasurer, this is what he said – not before the election, but in September, 28 September, in an opinion piece, so he wrote it down, yes he thought about it and submitted it to that great journal, The Australian. And he said this, it's very clear, "The world has changed dramatically even in the past few months. We have seen a rapid shift to an inflationary environment. Interest rates are bucking decades of downward trends." I mean, for those opposite, just show their economic illiteracy in here day after day.
Question time begins
03:18
After a moment of silence for condolence motions which have passed through the federation chamber (the spill over chamber for debates which the house of reps wants to continue, but doesn't have room for in the house chamber) it is straight into the questions.
Peter Dutton:
My question is to the prime minister. Before the election, this prime minister misled Australians where he said families will be better off under a Labor government. Since Labor was elected, interest rates have gone up eight times, and mortgage repayments have increased by $1,400 for a typical family. To make it worse, the Albanese government's economic policies are fuelling inflation and driving interest rates higher. prime minister, why do Australian families always pay more under Labor?
Anthony Albanese, who has had a version of this question every day since parliament resumed on Monday, gives a version of the same answer he has given.
03:17
Sussan Ley blames Labor for interest rate rises
This question from Sussan Ley is … something.
My question is to the prime minister: Over the course of the previous Coalition government's time in office, the Reserve Bank of Australia met almost 100 times and raised interest rates once. Under the Albanese government, the Reserve Bank has met on eight occasions, and has raised interest rates eight times. Using his economics degree, can the prime minister confirm that under the Coalition interest rates rose about 1% of the time but under Labor they are rising 100% of the time? Why do Australian families always pay more under Labor?
Siiiiiiggggghhhhhhhhh.
03:12
Anthony Albanese gets up to answer that question while Jim Chalmers yells across the chamber "you had a recession, you had a recession".
So you know, it is all very adult.
Liberal MP Bridget Archer lends support to voice to parliament referendum
Liberal MP Bridget Archer has swung more support behind the voice to parliament referendum, lending her name to a new parliamentary group backing the Uluru statement from the heart.
Federal parliament sees the creation of a lot of support groups known as the "parliamentary friends of…", a wide variety of cross-party groupings backing causes from music and sport to housing and abolishing the death penalty. Usually the groups are a good excuse to hold a function, put on some drinks and host speeches or forums (the parliamentary friends of red meat event earlier this week, which saw an enormous meat smoker wheeled into a Parliament House courtyard to dish out free brisket burgers, was particularly popular).
But the announcement of a new group caught our eye, ahead of its launch next week. Labor MP Dr Gordon Reid MP, independent MP Allegra Spender and Archer will co-chair the Parliamentary Friends of the Uluru Statement from the Heart, a group which the APH website says will be "a non-partisan forum for parliamentarians to meet and interact with relevant stakeholder groups on matters relating to The Uluru Statement from the Heart".
Archer has been more vocal than most of her colleagues on the statement and the voice to parliament. The launch of the group, on Monday with a function inside parliament, comes as Archer's Liberal colleagues still argue over the voice and leader Peter Dutton calls for more detail on the government's proposal.
Dutton said this week that the Liberals were not in a rush to come to a position on the voice.
Australian man dead after devastating Turkey earthquake
03:07
Ahead of question time, AAP has confirmed an Australian man has died in the Turkey Syria earthquakes:
A Sydney man has died in Turkey after a powerful earthquake shook the country – the first confirmed Australian death in the disaster.
Can Pahali's body was found in rubble after members of his family flew to Turkey from Australia to help search for him.
A family member told AAP he was heading to the site where Pahali's body had been found in the rubble of a collapsed building, to dig his uncle out from underneath.
Pahali's family had urged the Australian government on Wednesday to help in the search for him, as he was visiting his sister in the badly affected Hatay province.
The magnitude 7.8 quake struck the southern Turkish province of Kahramanmaras on Monday, which has claimed the lives of more than 12,000 people in the country and neighbouring Syria.
Pahali was an active community member in Sydney's inner-western suburb of Glebe.
A friend paid tribute to Pahali, who was also known as "John", in a social media group.
"A sad update. In recent hours John's (Can Pahali's) body has been recovered from earthquake rubble in Turkiye," the post says.
"He has had a wonderful six months reuniting with his large family in different areas of his country.
"He is now with his beloved Jesus. God bless you John! We shall miss you so much."
The Department of Foreign Affairs and Trade is assisting about 40 Australians and their families who were in the earthquake area.
In a previous post, the friend said Pahali would be remembered for "making wonderful feasts and food for Have A Chat Cafe".
"His nephew's flown from Sydney to help in the search for him and other family members, also now missing," the post says.
"Pray for him and his family in Turkey and here in Australia."
The New South Wales premier, Dominic Perrottet, has defended the appointment of Liberal official Charlie Taylor to a productivity council set up to provide independent advice on innovation in the state.
Asked about the appropriateness of Taylor's new role as council chair, Perrottet said it was not a paid position and Taylor had an extensive track record that made him suitable.
He said:
He is somebody who's perfectly suited. Productivity is crucial and key to growing our economy moving forward and we've enacted a whole range of measures from the productivity commissioner and I think Charlie Taylor is very, very well suited to take on that role.
Related: Liberal donor brother of Angus Taylor appointed to independent NSW body by Coalition
02:50
Lambie weighs in on Labor's defeat over donation transparency rules
And Jacqui Lambie, who moved the disallowance motion which saw Labor's super regulations quashed, has also weighed in on the government's defeat in the Senate:
For a government that's all about transparency, I don't know why allowing super funds to hide donations and payments was high on their agenda. One super fund spent $3 million of your money on getting their logo on to a footy. Some of them are giving bonuses to their directors worth over $10 million dollars. They've spent $24 million of your money on a lobbying firm." Funds give money to unions, who give money to the Labor party, and it's not their money to give. It's yours. If you want to donate to the Labor party, go for it. But if someone else is going to donate your money for you, they should have the courtesy of telling you." That's what they'll have to do now the Senate has disallowed this regulation.
Ignore Aukus naysayers, says shadow defence minister
As foreshadowed earlier, Richard Marles has given a ministerial statement to parliament seeking to play down concerns about the impact of the looming Aukus deal on Australia's sovereignty.
The defence minister's speech was followed by a response from his opposition shadow, Andrew Hastie. He said the Coalition "shares the minister's view that defending our sovereignty, our territory, our values and our way of life are a sacred duty of the Australian government and, indeed, of this parliament".
Hastie promised that the opposition would "always work with the government, in a spirit of goodwill, to provide for the safety and security of the Australian people".
After recapping the history of Aukus (ie the Coalition started it), Hastie acknowledged the practical difficulties in implementing the overall goal to "build our military strength through the acquisition of nuclear submarines, and other advanced defence capabilities". He said:
This task will span multiple parliaments, governments and generations of Australians. It requires leadership from government, and institutional support from this parliament.

For this is a truly complex and demanding nation-building project that engages government, business, industry, our schools and universities, our workers, our allies and our regional neighbours. Most importantly, this task demands resolve. For we do live in a contested and competitive world.

There are naysayers and opponents of Aukus – here in Australia and abroad. They will counsel doubt, delay, and deferral. We must ignore them, and stay the course.

Delivering nuclear boats to the Royal Australian Navy on time demands singular focus and resolve. It demands relentless mission focus – not just from government, but from all of us in this House.

The opposition believes in the Aukus mission, and we are resolved to see it through to completion – at best speed with the most capable nuclear submarine that we can get. This must be our priority as time is not on our side. Our strategic circumstances have changed, for the worse—as the minister has outlined today. The past twelve months have added urgency to the Aukus mission.
Hastie also called for "our American friends to retain an outward-facing posture, to stay engaged in the region, and to be responsive to the needs of allies – particularly when it comes to the liberalisation of defence and technology transfer". He urged the US congress, the UK parliament and the Australian parliament to "work together to realise the host of legislative changes that will enable the smooth operation of Aukus beyond respective governments of the day". He encouraged Marles to consider "institutional experimentation" (he did not elaborate).
Andrew Wilkie calls for communications minister's resignation
Independent MP Andrew Wilkie has called for the communications minister, Michelle Rowland, to be sacked after reports alleging she accepted donations from gambling company Sportsbet before the federal election.
The donations, first reported by the Sydney Morning Herald, were allegedly received when Rowland was the shadow minister responsible for online betting.
Wilkie said:
At the time of the alleged donations she was the Labor spokesperson for communications with the very real prospect of becoming minister for communications if the ALP was to win the election.

This would give her responsibility for the Interactive Gambling Act and the Australian Communications and Media Authority, so how on earth she thought it was OK to accept donations from an online gambling company is unfathomable.
Willkie said if the media reports were accurate, Rowland is "deeply conflicted and it is patently untenable for her to remain in her position".
Rowland's office has been contacted for comment.
A spokesperson for the minister told the Nine papers that "all donations the minister receives are compliant with the AEC's disclosure. requirements".
Alan Tudge to confirm resignation around 3.15pm
02:46
Katharine Murphy, who always knows all the things worth knowing, tells me that Alan Tudge will confirm his departure from federal politics following question time.
It will be "on indulgence".
So that will be about 3.15pm (Canberra time) for those wanting to watch.
02:44
This is David Littleproud country, for those wondering
(It is bloody hot in the greatest nation on Earth at the moment and I hope my fellow Queenslanders are staying hydrated.)
02:38
Senate inquiry to scrutinise government's new cultural policy
The Greens have set up a Senate inquiry to look at the Albanese government's new cultural policy, Revive.
Sarah Hanson-Young says it is great there is a policy, but they just want to check there are no gaps:
After a decade of neglect, a national cultural policy was very welcome. A number of initiatives proposed by the Greens were adopted and that was particularly pleasing.

But we must make sure the policy is as strong as it can be, with adequate funding behind it. A Senate inquiry will provide an opportunity to examine the policy in detail ahead of the May budget.

Artists and creatives were confused last week to hear the government was backtracking on a minimum wage and policy gaps around skills, training and education have already appeared. Funding is yet to be allocated to save our national cultural institutions or the national library's online archive the Trove, which runs out in July. Matters such as this will be examined by the committee."
'We must redouble our frontline diplomatic efforts,' Coalition defence spokesperson says
The Coalition defence spokesperson, Andrew Hastie, argued the region had witnessed "a creeping strategic disorder over the past six months" and said "a new reality is darkening our region".
He cited the response by the People's Republic of China (PRC) to then US House speaker Nancy Pelosi's visit to Taiwan, the self-governed democracy that Beijing claims as a province:
PRC rockets streaked across the skies of Taiwan in August, and PRC spy balloons breached sovereign airspace in the United States and Central America. Authoritarian powers are on the move, and the rules-based global order has groaned under the strain. The risk of miscalculation has risen to dangerous levels …

We can't afford to be weak in this new reality, and nuclear submarines will make us strong*.
(General proviso that the submarines may take decades to be ready. Watch this space.)
But Hastie also included a nuanced message that it is "not enough" to rely on military power and "we must redouble our frontline diplomatic efforts":
As the minister [Richard Marles] said, we must build our friendships to reduce tension and create pathways for peace. We are blessed to live in a colourful, dynamic region of many countries and cultures. Modern Australia reflects this regional diversity with our multicultural society. This is a strength as we step out into our Indo-Pacific neighbourhood. We understand and respect differences as we encounter them. Our neighbours are important to us. Friends such as Japan, Singapore, South Korea, India and Indonesia. We benefit from their strategic insights and perspectives. And we uphold their sovereignty with the same zeal that we wish to safeguard our own. But we all the share the same desire for a brighter future and – on that common ground – we must work together to avoid conflict, disorder and strife with all nations in our region – sometimes with outstretched arms towards those that wish to remain aloof. We must stay engaged and we must maintain a bias for dialogue.
02:29
Alan Tudge's rumoured resignation sparks speculation of Frydenberg comeback
There may be no confirmation about Alan Tudge's rumoured resignation from the parliament, but it took about three minutes for it to become part of the Hansard record, thanks to Labor MP Patrick Gorman:
Because what we have seen in reports today is that we might be having a member of the shadow executive walk out the door and be replaced by former treasurer Frydenberg. The former member who gave Australians $1 trillion of debt is now going to come back to finish the job – I don't know, try and add an extra $2 trillion of debt?"
Barnaby Joyce did not like this and tried to make a point of order, but Gorman continued:
Maybe there is some sensitivities amongst the Coalition parties about the idea that the former member for Kooyong may return to this place. We know that, however much he spent, we definitely know there was billions of dollars wasted on jobkeeper through poor policy design. It is the talent that is being brought back into this place, and indeed, a record from the former member for Kooyong who may be the new member for Aston, the highest-taxing treasurer in Australia's history, and I note that when I say the highest-taxing treasurer in Australia's history I am not being pulled up on accuracy … because it is a fact.
02:23
Not long until the last question time of the week.
Given the mood of parliamentarians and the weird muggy rain in Canberra, it could go either way.
Sallianne Faulkner appointed acting CEO of ClubsNSW after Landis fired
Sallianne Faulkner has been appointed acting chief executive of the powerful NSW clubs lobby after the previous head, Josh Landis, was fired over offensive comments.
Faulker was looking forward to leading ClubsNSW through the "challenges" ahead.
Faulker said:
As our club industry faces challenges on multiple levels, I look forward to working with whomever forms government in March and working on sensible reform – reform that is informed by evidence and ensures long-term industry viability for our communities, our staff and our club members. Clubs must be able to continue to provide community facilities and support, critical to the regional areas and metropolitan suburbs across NSW.
ClubsNSW announced the appointment on Thursday, after late last month Landis accused the premier, Dominic Perrottet, of being guided on gambling reform by his "conservative Catholic gut".
Just to be clear with readers, I still don't have firsthand confirmation that Alan Tudge is going, but I strongly suspect he is. I'm told there will be an announcement after question time.
Senate inquiry to investigate the impacts of feral horses in the Australian Alps
A motion to establish a Senate inquiry to investigate the impacts of feral horses in the Australian Alps has passed the Senate.
Launched by the independent senator David Pocock, the inquiry will explore what powers the environment and water minister Tanya Plibersek has to force state governments to take more action to protect national parks from horses.
The committee will investigate the impact of the feral species in the Victorian high country and in the Kosciuszko national park and whether the federal government's responsibility to protect heritage areas can be used to override actions by state governments if they are not meeting their obligations under national environmental laws.
Pocock said managing feral horses was a "difficult and often emotionally charged issue":
We are already grappling with chronic biodiversity loss and species extinction. It's really important that we face this challenge head on, in a constructive, considered way that prioritises the long-term ecological health of these ecosystems.
The number of horses in the Kosciuszko national park increased by more than 4,000 over the past two years. A review by the NSW environment department said the state government may need to consider expanding control measures to include aerial culling. The state has been using a combination of ground shooting and trapping and rehoming to remove horses from the park.
Jack Gough of the Invasive Species Council said the inquiry would put a spotlight on the damage feral horses were causing to vulnerable ecosystems.
Right now thousands of feral horses are trashing and trampling our unique alpine wildlife, rivers and ecosystems and the NSW and Victorian governments are failing to rapidly reduce their numbers. We expect this inquiry will demonstrate both the opportunities and the necessity for federal intervention to address this.
01:50
Alan Tudge has not been in chamber since parliament resumed
As has been pointed out by a few secret squirrels in the chamber (and Murph), Alan Tudge hasn't been in the chamber since parliament resumed. We understand he has not been paired either (which is when a missing member's vote is paired with someone from the other side, who sits out any vote, so the absence isn't a deal breaker – not a big deal usually, unless there is a hung parliament).
01:47
Alan Tudge won the seat of Aston at the last election despite a massive swing against him. Aston had previously had been a very safe seat in Melbourne, but following the 2022 poll, it is down to a 2.8% margin.
That doesn't mean anything – there was a lot of anger at that election, which, in the event of a byelection may not play out the same, but as things stand, if a byelection was held, the seat is in play.
And that is not great news for Peter Dutton, who at the moment is trying to walk a very narrow path between the conservatives and moderates in his party.
Throw Josh Frydenberg as a potential candidate (and winner) into the mix, and Dutton might find he has a leadership challenger back in the party.
Government's don't tend to win byelections as a general rule, but if certain pieces fall into place and one is held, it would be one to watch.
Liberal Alan Tudge set to quit?
Good afternoon. Nine newspapers has reported that the Victorian Liberal Alan Tudge is "poised" to quit politics.
I don't have firsthand confirmation, but can report colleagues certainly expect him to go.
Tudge has not been in parliament this week and colleagues report he's been missing in action over the summer, not doing media and not fronting internal deliberations.
In the event he goes, there will be a frenzy of speculation about whether the former treasurer Josh Frydenberg plans a return to the fray.
01:36
Greens say Labor needs to negotiate 'in good faith'
The Greens treasury spokesperson Nick McKim also had some words for the minister for financial services, Stephen Jones, after the Senate disallowance motion on his regulation changes (the minister changed the regulations, the Senate said, thank you, but no).
McKim:
Last year, the minister for financial services, Stephen Jones, reached an agreement with the Greens to include within the Financial Accountability Regime million-dollar fines for executives who breach their accountability obligations. But within 24 hours of that agreement being made public, the minister reneged. After a day of shameless lobbying by the banks, the minister went back on his word.

Today, the Greens have demonstrated that there are consequences for this.

If the government expects the Greens to be reasonable, then they need to demonstrate that we can work with them in good faith.

One way to demonstrate this would be to come good on what was agreed to and include million-dollar fines for dodgy bankers in the Financial Accountability Regime."
McKim also wants the government to bring forward legislation or regulations which would require the regulator to publish relevant expenditure by all super funds, for both political and profit purposes, in the one place.
This would allow consumers to easily make a comparison between their fund and other funds.
01:36
As always, Daniel Hurst is six steps ahead – here is his report on Richard Marles' defence statement:
Related: Richard Marles insists Aukus submarine deal will not erode Australia's military sovereignty
01:27
The defence minister Richard Marles is making his ministerial statement on 'securing Australia's sovereignty' which Daniel Hurst will be covering for you.
Marles has been pretty excited to make this announcement.
He has a couple more coming as well. More on Aukus is due next month.
01:13
Bragg says 'the great super cover up is over'
Liberal senator Andrew Bragg is pretty pleased with the disallowance motion passing. He was VERY quick off the mark with a release, saying it was a "a massive defeat to the Labor Government for Vested Interests".
Which seems a little dramatic, but non-government MPs don't get a lot of wins lately, so we'll allow it.
Today in the Senate, the attempt by minister Stephen Jones to cover up payments from super funds to unions was blocked.

The great super cover up is over. (Ed note: This is absolutely too dramatic)

The Lambie disallowance means $30m of retirement savings each year will now be disclosed to workers in their annual statements*.

The Coalition introduced strong disclosure requirements for super funds to disclose all payments from super funds to unions and related parties.

In his first act as minister in 2022, Jones sought to cover up these payments…."
It goes on, but you get the drift.
To be honest, no one seemed particularly happy with this move from the Labor government, with the main question from the crossbench – why would you want less transparency?
Don't expect it to be the end of the matter either – Bragg has already flagged he will be probing some of the donations with the regulator.
*That relates to this part of the original regulations, which are now back in place
The quarterly and annual publications will comprise new and expanded data on an industry, fund and product basis. The expanded data, captured under newly-introduced superannuation reporting standards, will include information on fees and costs, asset allocation and performance data for all products and investment options as well as information on insurance arrangements, expenses, member demographics.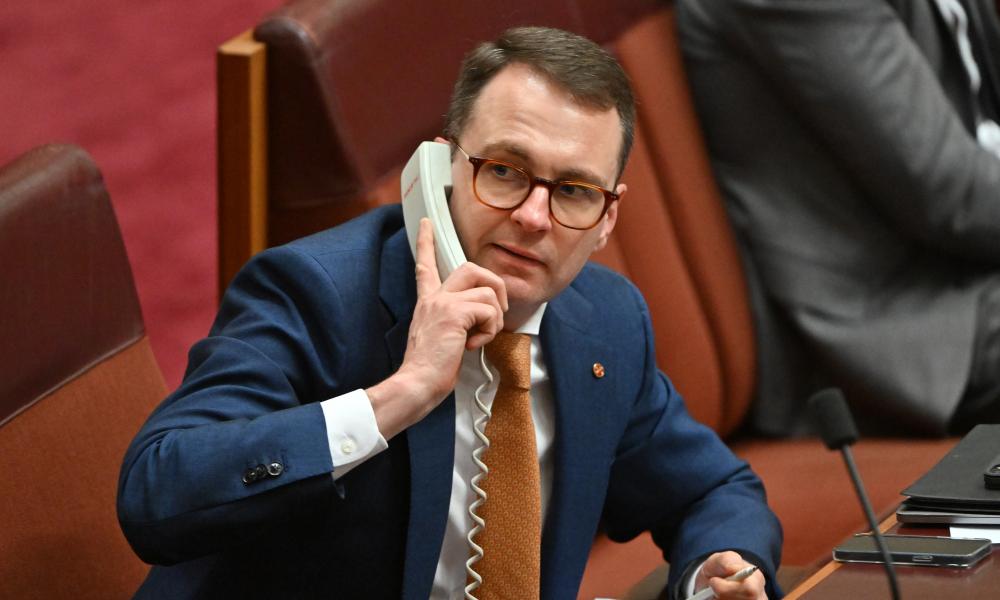 The Senate has voted to disallow Labor's superannuation transparency rules
Under the new rules political donations needed to be itemised in information given ahead of the annual general meeting; but nonpolitical donations were only required to be disclosed "in aggregate".
On Thursday the Coalition, Greens, and Jacqui Lambie Network and David Pocock combined to vote them down 42 to 21, with only Labor opposed.
Earlier this week Greens treasury spokesperson Nick McKim told Guardian Australia:
Last year the minister [Stephen Jones] agreed to million dollar fines for dodgy bankers. But after a day of lobbying by the banks, the minister went back on his word …

The minister needs to understand that there are consequences for breaking this agreement.

If the minister expects the Greens to be reasonable, then he needs to demonstrate good faith. We've also given the minister six months to institute a meaningful super transparency regime. He hasn't done so. We have his word that he'll do so. But, as I've just outlined, that is not enough right now.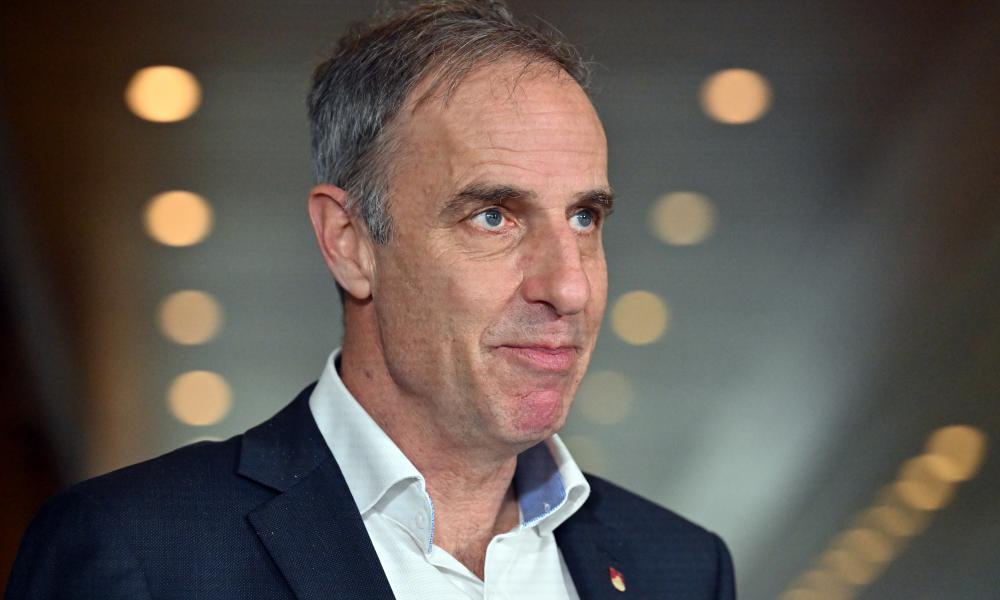 00:49
That disallowance motion Paul has reported on is one of this government's first defeats in the Senate, I believe.
As every government comes to learn sooner or later – you can never take the Senate for granted. It is always going to do what it is going to do.
AGL shares dive as new CEO hits out at government intervention
Investors have caned energy giant AGL this morning after its profit outlook fell shy of previous predictions, with the stock down more than 7.5% at one point.
The prompt was the firm's release of half-year results, including its net loss of $1.075bn that was widely expected after write downs.
A halving of underlying profit to $87m didn't help, nor did a narrowing of the guidance range for FY23. It now expects underlying EBITDA (a profit measure) of $1.25bn to $1.375bn, versus as much as $1.45bn previously.
Similarly, rather than producing an underlying net profit of between $200m-$320m, it now expects the range to be $200m-$280m.
Some of that paring back of profits to come seems to stem from the Albanese government's intervention to lower wholesale power prices via caps on black coal and gas costs.
According to AAP, new AGL CEO Damien Nicks said the invention, including in the form of a mandatory code of conduct for gas extractors, "has increased regulatory instability and uncertainty".
"Policy certainty and clarity is key to encouraging new investment required for the transition," he said.
Mind you, policy certainty is not something AGL has delivered to investors of late.
Recall this company had plans to split into "dirty AGL" with its coal plants in one firm, and a "clean AGL" of renewables and retailing. That was before billionaire Mike Cannon-Brookes – stymied in a takeover bid – snapped up 11% of shares and canned the whole demerger plan.
Cannon-Brookes wasn't happy at the pace of decarbonisation of the country's biggest polluter, and shook up AGL's board to make sure the company gets out of coal earlier.
By April we'll see more proof of that with the closure of the remaining three units (about 1260 megawatts' worth) of the Liddell power station in the Hunter Valley.
This closure has been more than seven years in the making and, ironically, would have happened sooner if not for a quixotic intervention by the Turnbull government to browbeat AGL into keeping it open longer.
Governments intervene, it seems, in mysterious and unpredictable ways.
00:36
Andrew Bragg worried about 'misinformation' over Indigenous voice to parliament
Why is Liberal senator Andrew Bragg publicly lobbying his own colleagues on the voice?
He told the ABC:
Well, I understand that this is a vote of the public, not of the politicians, and I think there is a lot of misinformation out there which needs to be combated. I mean, there are many red herrings in this debate and that's why I thought it was important to set the record straight on a few of the historical and contemporaneous facts.
But Bragg isn't worried about misinformation being sent out in the educational pamphlets which will eventually go out to Australians. He is worried, he said, about misinformation now:
Well, I think the major issue with misinformation is people are making statements which are not true. I mean, the idea that this would be the introduction of race into the constitutional legal system is fundamentally flawed. The idea that this would be a special deal for certain Australians is another lie. I just think that there is so much misinformation out there and this is a proposal which I believe would really improve things in communities, particularly remote communities, but it would also address some longstanding problems in our system, in Australia.
00:28
Birmingham on Australia sending earthquake search and rescue teams to Turkey
On the question of whether Australia took too long to send search and rescue assistance to Turkey and Syria (an Australia team is preparing to leave and will be taken, along with its equipment, by the ADF arriving at the end of the week) opposition senator Simon Birmingham said these things take time:
I'm sure the government has been engaging closely with Turkish authorities in terms of what practical support is necessary on the ground. We can't just go in and send our own search and rescue teams in, and I have no doubt that the Australian search and rescue teams will be acting as part of a coordinated international effort and that those on the ground at present will be seeking to rescue any people they can, including any missing Australians. But of course, our hearts go out to those families who have lost loved ones, who have missing people, particularly to those families of four potential missing Australians. We know how distressing this time will be for you, and we just hope and pray that those rescue workers are able to find your loved ones.
00:16
In case it wasn't clear, fossil fuel companies are not the good guys when it comes to climate action (or anything, really)
Guardian Australia environment editor Adam Morton has explained why we need our governments to start, well, governing in this space:
Related: Fossil fuel companies won't save us from climate change. We need governments to step up | Adam Morton
Regional processing gap attacked
The shadow home affairs minister, Karen Andrews, has called on the government to release its legal advice about the impact of a four-month gap in which Nauru was not designated as a regional processing centre.
Asked if it should release the advice, Andrews told Guardian Australia:
Yes, absolutely, absolutely. They need to be way more transparent than what they are being. It was very disappointing. When Clare O'Neil went in to introduce this legislation into the parliament and did not cover off any of the circumstances. So, if they've got legal advice, they need to produce it …

There needs to be a very clear understanding of what the implications of that … incompetence means. So clearly there was a hole in our border protection policies – that is not good enough on its own.

But what was the implication for people already on Nauru? What was the implication for transitory persons in Australia? Why was it delayed so long? I think it's just inconceivable that any minister would think that that is a competent way to deal with such an important national security matter.
08 Feb 2023 23:51
National Redress Scheme inquiry seeking submissions before end of month
The Joint Standing Committee on Implementation of the National Redress Scheme is currently inquiring into the operation of the Scheme.
From the statement:
The inquiry will look closely into a range of areas, including:
The experience of First Nations applicants and applicants with disability in their dealings with the Scheme.

Accessibility, performance and effectiveness of support services and legal advice for survivors and their advocates.
Submissions from interested individuals and organisations on the inquiry's terms of reference are encouraged by Monday 27 February 2023.
The Committee wants to hear from individuals and organisations on their experience with the Scheme. Submissions can respond to some or all aspects of the inquiry terms of reference.
Full details of what the inquiry will examine can be found in the terms of reference on the Committee's website. An easy English guide is also available.
08 Feb 2023 23:46
Set the Standards recommendations passing parliament a start – but not every issue is solved
As Murph said this morning on a commentary slot on ABC radio RN, the Set the Standard recommendations passing the parliament is a start, but not every issue is solved. And we know there are a lot of staffers who are still waiting on answers and don't believe the culture has changed enough to ensure safe and inclusive work environments.
Murph spoke to the sex discrimination commissioner, Kate Jenkins, for this story with Paul Karp – it is an issue worth keeping a very close eye on, even if the headline spotlight moves away from it:
Political staff pursuing 'avenues to exercise their rights' is a clear sign that cultural change is under way in the Australian parliament, according to one of the leading architects of that change, Australia's sex discrimination commissioner, Kate Jenkins.

In January the independent MP Monique Ryan's chief of staff, Sally Rugg, launched a federal court case against Ryan and the commonwealth alleging "hostile conduct" and adverse action in breach of the Fair Work Act, including sacking her for refusing to work "unreasonable" additional hours. The case is slated to go to mediation next week.

Jenkins told Guardian Australia she did not want to comment on any specific cases. But she made a broad observation that more workplace complaints coming forward was "not a backward step" but instead evidence that people understood they had options.
Related: Kate Jenkins says more workplace complaints in Australian parliament 'not a backward step'
08 Feb 2023 23:45
Productivity review on childcare launches
The productivity review into Australia's early childhood education system has been officially launched, with Anthony Albanese, Jason Clare and Anne Aly playing with some actual children, instead of the adult sized ones we often see in the chambers.
One of the main questions will be – why is childcare so expensive? If the wages for early childhood educators haven't actually increased, what are parents paying (before subsidy) about $150 a day for?
In case you don't remember, the Keating government started the road to privatising early childhood education and then the Howard government picked up the baton and sprinted with it and every government since has just helped cement it and here we are.
The Labor government's childcare subsidy changes have passed the parliament and will come into effect from July. This review will look at what changes could be made to improve the sector – for all stakeholders.
(And in case it isn't absolutely clear, early childhood educators are saints and deserve to be paid for their labour).
08 Feb 2023 23:41
Canberra to host Australia-Indonesia defence and foreign minister's meeting
It's been a busy week for both Penny Wong and Richard Marles and it looks like it is staying busy – both ministers will host the 8th Australia-Indonesia 2+2 Defence and Foreign Ministers' meeting with the Indonesian defence minister, Prabowo Subianto, and foreign minister, Retno Marsudi, in Canberra.
The official statement tells us the ministers will "discuss bilateral, regional and global issues of shared strategic interest, and identify opportunities for deeper cooperation under the Australia-Indonesia Comprehensive Strategic Partnership"
There will also be a 'we cool?' section of the meeting, which is described as "the meeting will reaffirm the continuing dialogue and partnership that Australia has with Indonesia, including on defence and regional security."
The ministers will discuss the opportunities and challenges in our region and how Australia and Indonesia can work together to help maintain a peaceful Indo-Pacific, underpinned by Asean centrality.

Australia recognises Asean's essential contribution to regional peace and security and is committed to supporting Indonesia's leadership as Chair of Asean in 2023.

On Friday, foreign minister Wong will co-chair the Bali Process Ministerial Meeting with foreign minister Retno in Adelaide.

The deputy prime minister will host a Defence Ministers' Meeting with minister Prabowo in Canberra.
08 Feb 2023 23:22
Paterson welcomes Chinese-made security camera removals
The defence minister, Richard Marles, has made the Liberal senator and security hawk James Paterson very happy this morning with his announcement the government will be removing Chinese-made security cameras from Australian government department and agencies.
Paterson asked for an audit of the departments and agencies cameras about six months ago (the cameras pre-date the Labor government) after the US and the UK started to look at who was making their own security cameras. Turns out we have about 900 Chinese-made cameras in places that maybe they shouldn't be.
Marles told the ABC that following that audit, the cameras will be gone-ski, making Paterson pretty happy.
I welcome the comments by the defence minister, Richard Marles, this morning. That's an appropriate response that they're taking this seriously. I'm encouraged by that.

This need not be a partisan issue at all. This is just a serious issue of national security. So, I hope the government swiftly acts on this information and removes these devices as soon as possible.

I was concerned that in one of the answers to the questions on notice I received from the Department of Defence, they said that they were aware of one, but there might be others, and they were currently conducting a physical assessment to determine whether or not that is the case. That is alarming. The Department of Defence, of all departments, should know if there are any more.
And what's the issue, according to Paterson?
I have two concerns. One is a security concern. We have no way of knowing whether images, audio or other data collected by these devices are being sent back to China and handed over to Chinese intelligence agencies.

But I also have a moral concern. These companies have been implicated in what the United Nations has called crimes against humanity, what others call genocide against the Uyghur people in Xinjiang. And I don't think any Australian taxpayer dollars should be going to companies involved in these things.
Amy's catchup: public funding for the Indigenous voice campaigns
08 Feb 2023 23:15
Just to catch everyone up on what is happening with the demand for public funding of the yes and no campaigns for the voice.
Anthony Albanese and the government have said no – that taxpayer funding isn't needed, because there will be enough in donations from supporters of each side to fund their cases.
Peter Dutton wants funding. He has secured the release of an educational pamphlet on both sides cases to be mailed out (although there are battles going on on whether or not it should be fact-checked before being sent, because well, people can put all sorts of misinformation on those things and call it "educational") and so is now pushing for public funding of the campaigns as well.
But this morning, Dutton's senate colleague, Simon Birmingham, told the ABC that no, he didn't believe there needed to be public funding for the voice campaign either, and the campaigns could work it out themselves.
Which sort of takes some of the wind out of Dutton's sails.
08 Feb 2023 23:03
Twitter is not cooperating for quite a few accounts this morning, including those that represent some of our institutions:
08 Feb 2023 22:54
Albanese on Putin
Anthony Albanese was asked about the suspension of the investigation into who was responsible for the downing of MH17 and said:
We will continue to pursue these issues with every avenue of our disposal. This is a guy who runs an authoritarian regime, that does not care about human rights, that does not care about devastation of communities whether it be in Ukraine, whether the oppression of his own citizens or whether it be at outside of Russia, of which we have seen a number.
08 Feb 2023 22:48
Expect a lot more of these sorts of photos over the next couple of months as the government works to draw focus on its early childhood education plan, as well as plans for education funding.
Social housing fund legislation to be introduced
08 Feb 2023 22:46
The first piece of the government's social and affordable housing fund legislation is being introduced by Julie Collins today – which ultimately will lead to a $10bn fund.
This legislation will create the fund. But don't expect any additional housing stock overnight. There are still agreements to be worked out with the states and private providers.
This was an election promise – over the first five years, the fund is slated to build 20,000 social housing properties, with 4,000 of those to be allocated for women and children fleeing domestic violence, and for older women on low incomes at risk of homelessness.
The election announcement also included 10,000 affordable housing properties for frontline workers, whom Anthony Albanese described as the "heroes of the pandemic", including nurses, police, emergency service workers and cleaners. This would allow many of these low-income workers to live closer to where they work.
And as with all government funds, the returns will be used to pay for other parts of the program. In this case:
$200m for the repair, maintenance and improvement of housing in remote Indigenous communities

$100m for crisis and transitional housing options for women and children impacted by family and domestic violence and older women at risk of homelessness

$30m to build housing and fund specialist services for veterans who are experiencing homelessness or at‑risk of homelessness
08 Feb 2023 22:44
PM pushed on Pep-11, a 'grossly unpopular climate bomb'
Yesterday in question time, Anthony Albanese was asked a question by Greens MP Elizabeth Watson-Brown about the future of the Pep-11 gas project.
That was the one that Keith Pitt as resources minister wanted to approve, and prime minister Scott Morrison, who had also sworn himself in as resources minister, turned down.
It is in the federal court now, for that very reason. So Albanese, who had been vocally opposed while opposition leader, has not been making any concrete statements either way since the court proceedings.
But Greens spokesperson for health oceans Peter Whish-Wilson says people need certainty:
Anthony Albanese talked a big game in opposition about stopping the toxic offshore oil and gas drilling project PEP-11, but contrary to his election promise all we've had this week from the Prime Minister is excuses.

The Prime Minister's claim that PEP-11's fate is now a matter of regulatory procedure is an absolute cop out; his government has the power to legally kill the project!

Anthony Albanese could at least personally assure the communities that rallied to stop PEP-11 that he will fight to uphold his election promise.

This is a serious test for the Prime Minister: is he going to stay true to his words on stopping this grossly unpopular climate bomb or is he going to pander to fossil fuel companies and hide behind excuses of procedural propriety?
Whish-Wilson's offshore petroleum and greenhouse gas storage amendment (fight for Australia's Coastline) bill 2022 is having its second reading debate in the Senate at the moment – it's success will depend on whether or not the government supports it (which does not look like happening).
08 Feb 2023 22:43
Chinese-made security cameras are being removed
Following on from yesterday and the Canberra Times story about the Australian War Memorial removing security cameras made in China (which came after Liberal senator James Paterson started asking about the cameras, and asked for an audit of all government and agencies) the defence minister Richard Marles says, yup, those cameras have to go.
The US and the UK have been doing the same thing.
Marles:
We're doing an assessment of all the technology for surveillance within the Defence state and where those particular cameras are found, they're going to be removed. So there is an issue here and we're going to deal with it.
How big is the issue? Paterson said there are some in the Department of Home Affairs.
Marles:
I don't think we should overstate it, but I think it is right to be doing the assessment and making sure that we deal with that and that's what we're going to do.

I mean, it's a significant thing that's been brought to our attention and we're going to fix it.

That's obviously been there I might say for some time and predates us coming into office but, that said, it's important that we go through this exercise.
NSW rivals face off on air
08 Feb 2023 22:32
Michael McGowan
New South Wales premier Dominic Perrottet and opposition leader Chris Minns met this morning for the first debate in the lead-up to the state election next month, trading barbs over privatisation and education, health and transport funding.
The debate – which, in classic NSW style, was held on Sydney's 2GB radio station – saw both MPs ask one another three questions.
Perrottet stuck to a familiar theme; given that Labor has ruled out any future privatisations if it wins government, how would Minns have paid for the raft of infrastructure projects such as WestConnex and the Sydney Metro which the Coalition has funded by selling public assets over the past decade.
Minns pointed to the expansive tolling regime which has been put in place across many of the new Sydney motorways, and insisted that privatisation wasn't necessary to build infrastructure, calling it a "false comparison". On the metro, for example:
Minns:
We would have over time used dividends and revenue from the state of NSW to build the infrastructure we need.
Perrottet:
It's an 18-and-a-half billion dollar project … you can't build those projects on dividends.
Perrottet also pointed to Labor's plans to abolish the government's public-sector wage cap as evidence the opposition would need to push the state further into debt to fund new projects, with Minns saying that "any wage increases" to public servants "will be paid for by budget savings or productivity gains".
In return, Minns pushed Perrottet on whether the Coalition would seek to privatise any more state assets if re-elected, as well as pushing him on education and health funding in the state. While the premier said he had "no plans" for further sales of public assets he did not rule it out.
Russia 'unequivocally and conclusively' responsible for MH17 downing, Wong and Dreyfus say
08 Feb 2023 22:31
Penny Wong and Mark Dreyfus have released a joint statement on the suspension of the investigation into the downing of MH17.
Here it is:
The Australian Government acknowledges the announcement by the Netherlands Public Prosecution Service and the MH17 Joint Investigation Team that they will suspend their investigation into additional individuals responsible for the downing of Malaysia Airlines Flight MH17.

Russia's illegal and immoral invasion of Ukraine and its lack of cooperation with the investigation have rendered ongoing investigative efforts and the collection of evidence impossible at this time.

Australia has been steadfast in our enduring commitment to seeking truth, justice, and accountability for the victims of the downing of MH17.
Today's announcement will be distressing for many. Our thoughts remain with those who lost their lives, their families and loved ones, and we acknowledge the distress they will be feeling with this announcement.
We note the recent convictions of three individuals found responsible for the downing of MH17 and murder of 298 people, 38 of whom called Australia home.
We commend the work and professionalism of the Joint Investigation Team officials, including the Australian Federal Police, who have conducted rigorous investigations to support bringing those responsible to justice.
The findings of the District Court of The Hague unequivocally and conclusively establish Russia's responsibility for the downing of MH17.
Australia remains committed to pursuing our ongoing case with the Netherlands in the International Civil Aviation Organization (ICAO) to hold Russia to account for its role in the downing of the civilian aircraft.
08 Feb 2023 22:18
And there were a couple of clean-ups yesterday.
Paul Karp reports on another, here:
Related: Labor condemned for 'abhorrently cruel' decision to put 100 people back in immigration detention
08 Feb 2023 22:18
Daniel Hurst has been following the China coal shipment reports and asked trade minister Don Farrell for comment:
Any step towards resolving the trade impediments would be welcome.
08 Feb 2023 22:01
Daniel Hurst
'The Chinese side stands ready to work with the Australian side'
After reports yesterday of a first Australian coal shipment arriving in China, Chinese foreign ministry spokesperson Mao Ning told reporters in Beijing overnight:
China and Australia are both important countries in the Asia-Pacific with highly complementary economies.

The sound and steady growth of ties between our two countries serves the fundamental interests of both peoples and helps advance peace, stability and prosperity in the region and beyond. The Chinese side stands ready to work together with the Australian side to further deliver on the important common understandings reached between our two leaders in their meeting in Bali and the outcomes of the China-Australia foreign and strategic dialogue.

Based on the principle of mutual respect, mutual benefit and seeking common ground while shelving differences, we are ready to launch or resume dialogue and communication with Australia in various sectors, expand cooperation, manage differences, and strive to rebuild trust and bring bilateral relations back to the right track. 
Related: Australian coal shipment to arrive at Chinese port as unofficial import ban ends
08 Feb 2023 21:56
The last parliament sitting day of this week is about to begin.
Strap in.
08 Feb 2023 21:39
How will the Australian team work?
Paul Baxter:
We work as part of a United Nations system. So we're a member of that. We're trained up and accredited by the United Nations system. So we work hand in glove with them.

Get into country, get ourselves set up and then we'll be deployed where they want us to go, based on what the in-country emergency management needs are.

Obviously, there's rescues under way now and they've been doing some pretty heavy lifting so the teams will be getting tired.

So the next wave of rescuers coming in from further afield, like Australia.

Because obviously, there's 55 classified teams across the world of which Australia has two. So we're lifting one of our teams over there. And they'll add to the rescuers that have come in already from other Middle Eastern countries and Europe.
08 Feb 2023 21:38
Australian search and rescue team preparing to help in earthquake aftermath
Yesterday Anthony Albanese announced an Australian search and rescue team was being mobilised to go to Turkey and Syria to help with the recovery efforts after the devastating earthquakes which have left thousands dead.
NSW fire and rescue commissioner Paul Baxter says the team is almost ready to go. He told the ABC:
Preparations are under way at the moment. There's a full team, what we call a heavy team, of 73 people across agency. It's led by fire and rescue New South Wales, which is the biggest part of the team but also supported by members of the Department of Foreign Affairs and Trade, New South Wales public works, engineers, New South Wales ambulance, paramedics and New South Wales police and a multidisciplinary team.

We take all of our equipment. It's a 72-strong team airlifted by ADF. So that planning is under way and there's an awful lot of preparations going into making it happen.
08 Feb 2023 21:16
Tamsin Rose
NSW Greens vow to end all native forestry on public land
The New South Wales Greens will today pledge to end all native forestry on public land and fund the transition for workers and industry to sustainable plantations.
The party's environment spokesperson, Sue Higginson, said the state needed to plan for the end of native forestry and accused the major parties of failing to provide one.
She said:
Logging of public native forests is coming to an end in NSW. The only question left is whether it will be a planned transition or if it will catastrophically crash and leave forests and communities devastated and abandoned.

The recovery of forests for habitat and climate mitigation needs to begin immediately, that's why our plan calls for an immediate end to public native forest logging.

NSW forests cannot afford a long phase-out period because the cumulative damage from decades of exploitation has pushed them to the brink.
The Greens will also promise to rehabilitate and actively manage the state's public native forests, hand native forests back to First Nations custodians where possible and create low-impact recreation hubs to improve community use of forests.
The policy will be unveiled in Batemans Bay this afternoon.
08 Feb 2023 21:09
Richard Marles is feeling more confident that there is a solution for Australia's defence capability gap (the time between one technology, be it planes or submarines and everything in between expires and before the new one comes along).
He says:
So that capability gap, if you like, and the problem around that, we inherited from the former government was – we had a lost decade as the former government dillied and dallied over the questions of submarines. They were on and off again, with the Japanese and the French, we really did lose a decade and then obviously, very critical, has created a significant problem, but I'm confident that what we're about to announce will address that problem.

So yeah, there is a sense of confidence about that. And that's probably reflected in the way I'm speaking.
08 Feb 2023 21:02
'We live in a world which is fragile'
Does Australia share the view of the head of the US air mobility command, Mike Minihan, who wrote in a White House memo that he believes the US and China will come to conflict in the Taiwan Strait by 2025?
It is complicated, is the short answer from Richard Marles:
I think we live in a world which is fragile and is not as safe and stable as it has played in the past.

And obviously all of that is worrying, of course, that said, you know, our effort, our efforts, have their frontline diplomacy and what we seek to do is to do our best to create pathways towards peaceful resolution of disputes.

And you've seen that in the way in which we've sought to stabilise our own relationships with China.

And, you know, we value a productive relationship with China. That said, we need to be prudent about our own security. And that's why we're taking a range of steps in terms of our own defence, but you can understand that's what America is doing.
08 Feb 2023 21:00
Why are we not just saying yes?
Richard Marles:
We need to balance this, obviously, as all countries to do with our own capability and making sure that we maintain our own ability to operate in our own sphere here in the Indo-Pacific.

But we need to be doing what we can to support Ukraine and we'll continue to take that through and as we have and right now, we stand as one of the largest non-Nato contributors to Ukraine.

There is an incredible gratitude that Ukraine has towards what Australia is doing. It is noticed across Europe, that Australia a long way from Ukraine is doing so much so strange. We should feel proud of the support that we're providing and will continue that dialogue.
08 Feb 2023 20:51
Marles on Ukraine
Moving to the defence minister Richard Marles now, he is asked by ABC radio RN host Patricia Karvelas whether Australia is considering Ukraine president Volodymyr Zelenskiy's global request for more assistance in his country's quest to defeat the Russian invaders.
Marles says it is ongoing:
This is going to be an open question going on. I think the the answer to it is we will continue a discussion with the Ukraine for as long as it takes to make sure that they can stay in the contest.
08 Feb 2023 20:50
Birmingham says taxpayer-funded pamphlets on voice 'are enough'
A little earlier this morning Liberal senator Simon Birmingham, the de facto head of the moderate flank in the party, said he didn't want to see taxpayer money used to fund the yes and no campaigns for the voice – which has been one of party leader Peter Dutton's demands.
The government has relented and given in to another demand – to send out education pamphlets for the yes and no sides. But it has drawn the line at using public funds for the yes and no campaigns.
"I am not keen to see large licks of taxpayer funding spent on running campaigns," he told ABC radio, saying he doesn't want to see it go any further than administration.
Birmingham says the pamphlets are enough and that there are already people getting organised to run the campaigns so he doesn't think taxpayers need to pay for it.
He says he doesn't want to see the referendum fail but adds that the "absence of detail" is the easiest way to derail it, saying the government needs to come forward and fill in those gaps.
08 Feb 2023 20:48
What is the hold-up?
Mark Butler:
We can't just put more money into the existing Medicare system.

As you say, it was designed for a very different health profile in the country where you went to a doctor with short episodes of illness that were fixed and then you didn't come back to your next episode.

It's very different today with an older population with much more chronic disease, much more mental health issues in the community as well.

So we're going remake Medicare as well as deal with some of the financial pressure on it after six years of a Medicare rebate freeze.
08 Feb 2023 20:32
'We're not going to fix Medicare in one budget'
Health minister Mark Butler has spoken to ABC radio AM and told Sabra Lane that fixing Medicare won't be something the government can do in one budget.
Some MPs, including Mike Freelander, one of the doctors in the house, have been frustrated by what they see as a lack of urgency in addressing the problems with Australia's health system.
Butler says the government is working on it but it will take time:
There will be a delivery of the $750m package in the May budget. We've said that and we're committed to that and it will reflect and be guided by advice from the Strengthening Medicare taskforce. But I want to be honest that we're not going to fix Medicare in one budget. I've tried to be really clear with people this is long-term, focused work that we're committed to as a government.
Welcome
08 Feb 2023 20:25
Martin Farrer
Good morning, and welcome to our rolling coverage of the day in Australian news. I'm Martin Farrer and before my colleague Amy Remeikis fires up our live politics coverage, here are the main breaking stories overnight.
Tony Abbott should be sacked as trade adviser by the UK government because of his decision to join a climate-sceptic thinktank, lobby groups and British opposition MPs are saying today. He was criticised at home for his link-up with the Global Warming Policy Foundation and now calls are mounting in the UK for him to be stood down.
The sails of the Sydney Opera House will be lit up today in a sign of solidarity with Turkey and Syria as the two countries grapple with the appalling aftermath of Monday's huge earthquake. In Melbourne, where the Turkish community is rallying to send emergency supplies and funds to the stricken areas, buildings will be illuminated tomorrow.
The Greens appear to be in disarray after the convenors of their First Nations advisory group said they do not support the voice to parliament or a referendum on Indigenous constitutional recognition. It is a direct rebuke of their federal party room and instead backs the position of departed senator Lidia Thorpe. It also appears to flatly contradict the interpretation of the situation by party leader Adam Bandt on Tuesday.
"Numerous Greens MPs back Bandt's account and say their First Nations advisory group told them they cannot vote no to the voice. One party room member told Guardian Australia the advisory group's recent position on Tuesday is directly opposite to what they advised party room last week."
With that, let's get going for the day …
Call for Australian spy agencies to come out of the shadows
08 Feb 2023 20:17
Daniel Hurst
Australian intelligence agencies should be more transparent with the public in response to shifting community expectations and technological change, a new paper says.
The paper, published by the United States Studies Centre at the University of Sydney, also warns that Australia's intelligence infrastructure – digital and physical – is "not match-fit for the present or the future".
Dr Miah Hammond-Errey, the director of the emerging technology program at the United States Studies Centre, interviewed nearly 50 senior members from all 10 agencies in the Australian intelligence community as part of her research.
Today's paper, Secrecy, sovereignty and sharing: how data and emerging technologies are transforming intelligence, says:
A key impact of technology and data is that very little is likely to remain secret forever. There is a shift in the role secrecy plays in intelligence work. Secrecy is still vital for protecting intelligence sources and methods, but much more is knowable or inferable about the world and community expectations around transparency are changing.
In an interview with Guardian Australia, Hammond-Errey said there continued to be a "delicate equilibrium between secrecy and transparency" but the big data landscape had created "a citizen expectation of increased knowledge".
The reality of the digital era is that it has changed people's expectations about their access to information. I do think that the era of saying 'that's classified, that private, we're not going to share that' – I do think that's changed. This balance between what agencies release and what they keep secret needs to be constantly re-evaluated.
Hammond-Errey said the intelligence agencies would rightly say such a re-evaluation was a role for elected members, but she believed it was important to increase those conversations. The proactive release of western intelligence in the lead-up to Russia's full-scale invasion of Ukraine showed the need for new ways to respond to "hybrid threats or under-the-threshold actions".
She said there had been a big increase in public statements by Australian intelligence agency leaders over the past few years, including threat assessments. These exercises had been well-intentioned but were a "largely one-way dialogue and often very much focused on potential recruitment of personnel". She called for more two-way conversations with the broader Australian community.
The paper included a range of other recommendations, including that the government "should ensure that secret intelligence capabilities are within the bounds of reasonable community expectations of intelligence services to avoid backlash where collection or capabilities are legal but do not reflect community expectations".
It also called on the government to fund research into ways to "improve intelligence alliances within the Five Eyes, and with other nations such as Japan and South Korea".
Good morning from Politics Live
08 Feb 2023 20:15
Amy Remeikis here – thank you to Martin for starting off the blog this morning.
It's given me time to grab another coffee.
Katharine Murphy, Daniel Hurst, Paul Karp and Josh Butler will be with you soon to update you on all the parliamentary happenings. Mike Bowers is already out and about.
Ready?
Let's get into it.
08 Feb 2023 20:00
Early education and childcare in the spotlight
Measures for improving the quality, affordability and accessibility of early childhood education will go under the microscope, Australian Associated Press reports.
The federal government has appointed academic Deborah Brennan to lead a Productivity Commission inquiry into the early childhood and care system.
The education minister, Jason Clare, says: "A great early childhood education and care system pays a triple dividend – it sets children up for a great start in life, helps working families to get ahead and builds our economic prosperity by supporting workforce participation."
Labor went to the election pledging increased childcare subsidies for families, which will start in July.
But the inquiry will go further in seeking solutions to workforce shortages and access and benefits for children, especially those from disadvantaged backgrounds.
Brennan is an emeritus professor at the Social Policy Research Centre at the University of New South Wales and is an international expert in the field of early education.
The inquiry will start on 1 March and provide a final report to government by 30 June 2024.
08 Feb 2023 19:50
Daniel Hurst
'I want Ausaid to take over Dfat,' Pat Conroy says
The dedicated aid agency disbanded by the Coalition should "take over" the Department of Foreign Affairs and Trade, a minister has declared.
Ten years after the Coalition axed Ausaid and folded its staff into Dfat, Pat Conroy told a new podcast that "aid is not a dirty word" under Labor.
The minister for international development said it was too late to simply reverse the decision and go back to how things were pre-2013. But he signalled he wanted the issue to have a much bigger focus in the department.
In comments that will raise eyebrows within departmental ranks, Conroy told the Reimagining Development podcast series:
We've gone past the age of unscrambling the egg and pulling Ausaid out of Dfat. I want the opposite; I want Ausaid to take over Dfat.
The comment is a statement of intent about the increasing importance of international development within the deparmtent.
Conroy said Dfat grads should have rotations in international development but this should also be "a critical requirement for promotion" into the senior executive service levels.
He said he was also considering whether the department was relying on international contractors because it wanted that flexibility or "because we don't have the expertise in-house".
Conroy said development specialists in the department should "feel like they don't have to be in hiding":
We're out and proud about [aid] and we're going to sing it from the rooftops.
Conroy made the comments in a series jointly produced by the Good Will Hunters podcast and the Australian Council for International Development.
The Acfid chief executive, Marc Purcell, said the aid program was a national asset and it was "important and needed that the minister is putting development assistance on the same level as diplomacy".
Would you like to receive notifications on latest updates?
No
Yes