Ukrainian President Volodymyr Zelenskyy has arrived in the UK to hold talks with Rishi Sunak and meet the King and Ukrainian troops.
He was greeted by the prime minister at Stansted Airport after landing just before 10.30am on Wednesday for his first visit to the UK since Russia invaded Ukraine in February last year.
Both leaders travelled in a cavalcade to Downing Street where Mr Zelenskyy was greeted by clapping behind the doors of Number 10, a tradition usually reserved for new prime ministers.
Kremlin warns NATO of 'unpredictable level of escalation' – latest Ukraine war updates
The Ukrainian leader thanked Mr Sunak for inviting him and said it was a "great honour" to be in the UK as he thanked Britain for "all your big support from the first days of the full-scale invasion", adding he has "very good relations with Rishi".
Mr Zelenskyy has only made one other trip out of Ukraine since the invasion started, when he went to the United States and stopped over in Poland on the way back just before Christmas.
He will address MPs and peers in parliament after Prime Minister's Questions at midday and will meet King Charles at Buckingham Palace this afternoon before meeting Ukrainian troops training in the UK.
Mr Zelenskyy and Mr Sunak will discuss the UK's support for Ukraine, starting with an "immediate surge" of military equipment being sent to the country by the UK and the prime minister will reinforce his long-term support.
Shortly after Mr Zelenskyy landed, the UK announced further Russian sanctions, including against six entities providing military equipment, such as drones, to Russia, and eight individuals and one entity connected to "nefarious financial networks" helping maintain "wealth and power amongst Kremlin elites", the government said.
In December, Mr Sunak travelled to Kyiv for the first time since becoming prime minister in October where he pledged a £50 million package to boost Ukrainian air defence.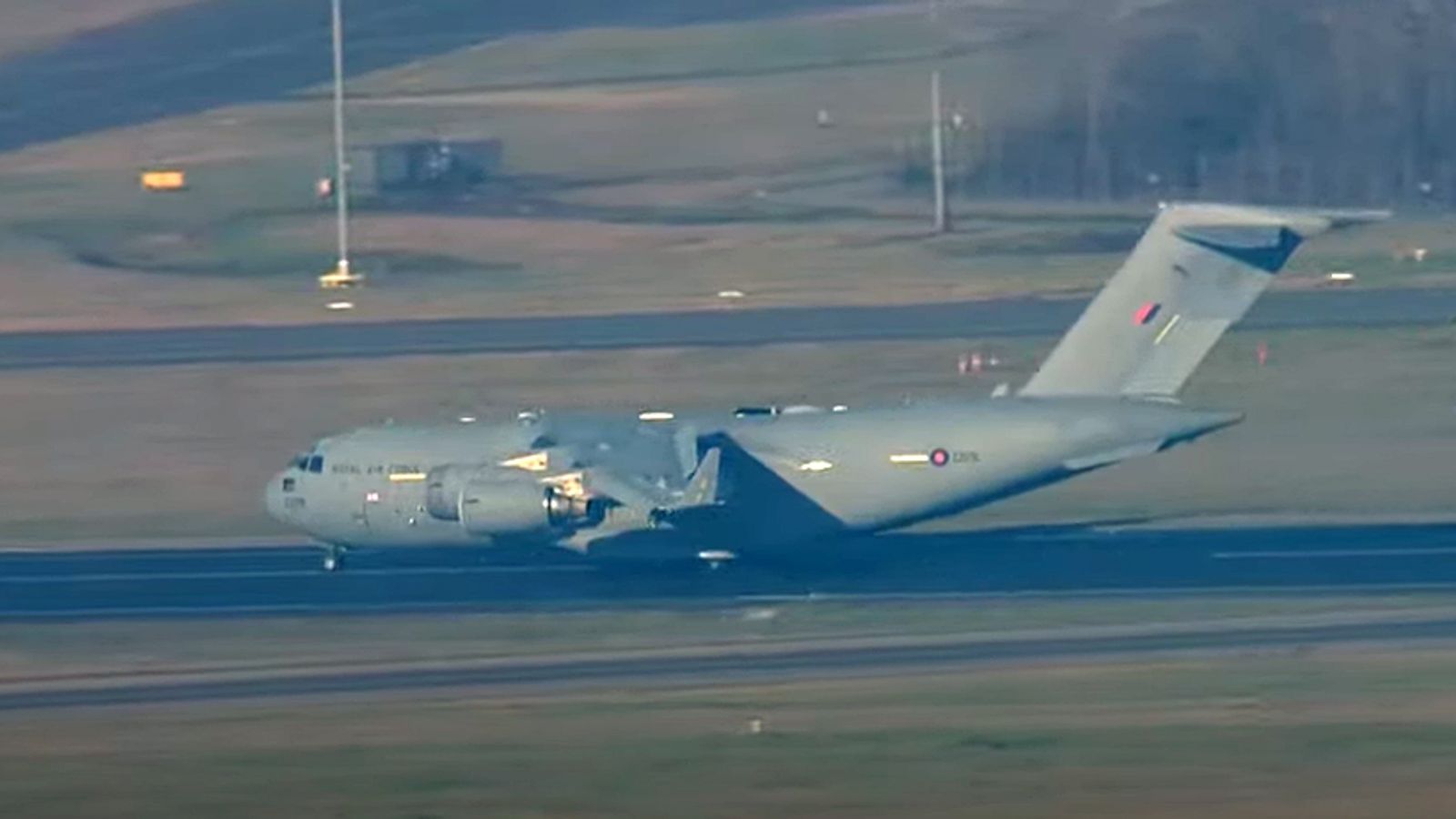 His predecessor, Boris Johnson, had a very close relationship with Mr Zelenskyy and was one of Ukraine's most vocal backers.
Fighter jet pilot training
There are expectations the Ukrainian leader might also make his first visit to European Union institutions since the war began, as leaders gather for a summit in Brussels on Thursday. However, this has not been confirmed.
On Wednesday, Mr Sunak will offer to bolster the UK's training for Ukrainian troops, including to fighter jet pilots so they can fly NATO-standard fighter jets, Number 10 said.
He will also offer to begin an immediate training programme for marines.
The UK has already trained 10,000 Ukrainian troops over the past six months and is planning to train 20,000 more this year as part of an international effort to scale up training of Ukrainian troops.
Downing Street said Mr Sunak will also offer to provide Ukraine with longer-range capabilities to "disrupt Russia's ability to continually target Ukraine's civilian and critical national infrastructure".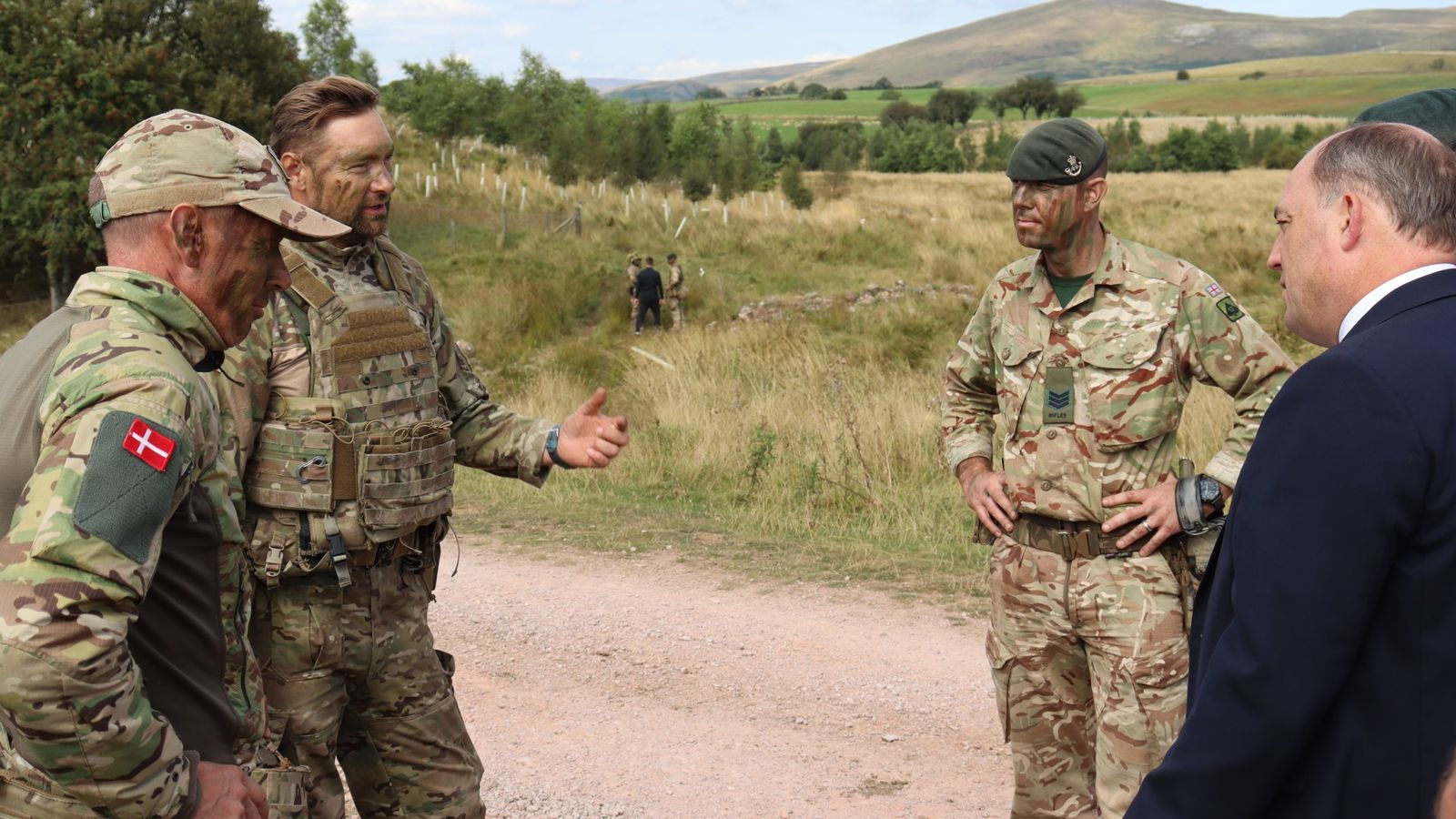 Mr Sunak said: "President Zelenskyy's visit to the UK is a testament to his country's courage, determination and fight, and a testament to the unbreakable friendship between our two countries.
"Since 2014, the UK has provided vital training to Ukrainian forces, allowing them to defend their country, protect their sovereignty and fight for their territory.
"I am proud that today we will expand that training from soldiers to marines and fighter jet pilots, ensuring Ukraine has a military able to defend its interests well into the future.
"It also underlines our commitment to not just provide military equipment for the short term, but a long-term pledge to stand shoulder-to-shoulder with Ukraine for years to come."