Ukraine claims the last 24 hours were the deadliest of the war for Russian troops, as Moscow hurls tens of thousands of freshly mobilised soldiers and mercenaries into relentless winter assaults in the east.
The Ukrainian military said 1,030 Russians were killed yesterday, describing it as the highest daily toll of the war so far and bringing the total to 133,190.
The figure could not be independently verified and battlefield losses are notoriously difficult to estimate. But the unprecedented scale of reported casualties fits accounts from both sides that describe recent battles in snow-covered trenches as the deadliest combat of the war to date, despite little progress by either side at the front.
Sign up to the Front Page newsletter for free: Your essential guide to the day's agenda from The Telegraph – direct to your inbox seven days a week.
02:28 PM
Photos from the front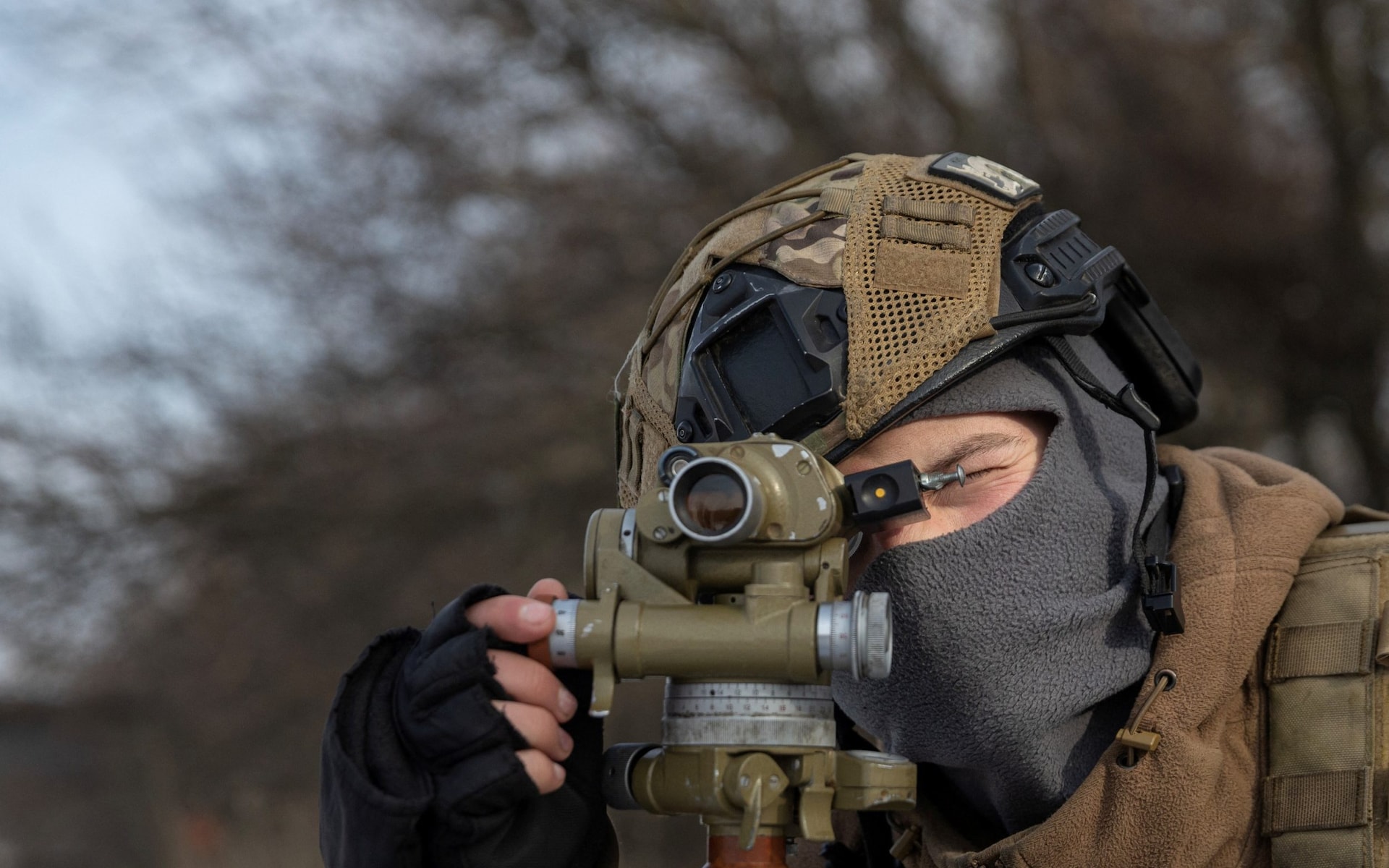 02:11 PM
'Five explosions' in Mariupol
Five loud explosions were reported in the occupied city of Mariupol on Tuesday.
An advisor to the exiled mayor said the explosions were reported "in the sea port area." 
"That's exactly where the occupiers recently deployed military hardware and anti-aircraft defence systems," said Petro Andriushchenko.
A large number of Russian warplanes were seen flying over the city afterwards, according to Mr Andriushchenko, who added that pro-Russia social media channels were being "purged" of any reports about the blasts.
02:04 PM
New chief for Ukraine's security service
General Vasyl Maliuk has been appointed to lead Ukraine's security service, the SBU.
He had served as acting head of the agency since July, when its former chief Ivan Bakanov – a childhood friend of President Zelensky – was dismissed over alleged failures to crack down on Russian collaborators within the agency.
01:35 PM
Russian shells spark hospital fire
Russian shelling hit more civilian targets in Ukraine overnight, starting a fire at a hospital and damaging five apartment buildings, local officials said on Tuesday.
The main hospital in the northeastern town of Vovchansk caught fire late yesterday as a result of the shelling, regional Ukrainian emergency services reported. Fires also broke out elsewhere in the town.
Emergency crews evacuated eight civilians from the hospital before putting out the blaze, which caused no casualties, authorities said.
01:00 PM
Russia pouring troops into Eastern Ukraine ahead of new offensive
Russia is pouring reinforcements into Eastern Ukraine ahead of a new offensive that could begin next week along a front where there have been relentless battles for months, a Ukrainian governor said.
"We are seeing more and more [Russian] reserves being deployed in our direction, we are seeing more equipment being brought in," said Serhiy Haidai, the Ukrainian governor of Luhansk.
"They bring ammunition that is used differently than before – it is not round-the-clock shelling anymore. They are slowly starting to save, getting ready for a full-scale offensive," Haidai told Ukrainian television.
"It will most likely take them 10 days to gather reserves. After Feb. 15 we can expect [this offensive] at any time."
The war is reaching a pivotal point as its first anniversary approaches, with Ukraine no longer making the kind of gains it was achieving in the second half of 2022 and Russia inching forward with hundreds of thousands of mobilised reserve troops.
12:43 PM
Defence minister's future remains unclear
The future of Ukraine's Defence Minister Oleksii Reznikov remained unclear on Tuesday as officials sent mixed messages about whether he would be replaced, leaving a key post in doubt.
President Volodymyr Zelensky has fired a series of high-level officials this year in a purge aimed at clamping down on corruption. Mr Reznikov has been under pressure over a corruption scandal in his department, although he denies wrongdoing.
On Sunday, David Arakhamia, head of Mr Zelensky's parliamentary bloc, published a statement saying that Mr Reznikov would transferred to another department.
However, he later said that no reshuffle was planned for this week and Mr Zelensky made no mention of the rumours in his nightly address on Monday.
Kyrylo Budanov, currently serving as Ukraine's military intelligence chief, is tipped to take over as defence minister if the reshuffle goes ahead.
12:15 PM
Russian Foreign Minister in Mali, where Wagner mercenaries are accused of massacre
Russia's Foreign Minister Sergei Lavrov arrived in Mali today for talks with junta leaders seeking Moscow's help in battling an Islamist insurgency.
The visit is his third to Africa since July, part of a bid to expand Russia's presence on the continent amid its international isolation following the invasion of Ukraine.
Several Malian officials have travelled to Moscow, but the visit by Lavrov is "the first of its kind" aimed at cementing "a new dynamic" for security and economic cooperation, according to Mali's foreign ministry.
Mali has already received planes and attack helicopters from Moscow as well as several hundred Russian soldiers described by Mali's leaders as instructors who are helping to reinforce its defence and sovereignty.
But Western officials say the fighters are actually paramilitaries with the Wagner mercenary group, who have been accused of brutal tactics and rights abuses.
A group of UN experts spoke last week of "credible reports" of a massacre carried out last year by Malian armed forces accompanied by Wagner personnel.
11:52 AM
The latest photos from Ukraine
11:32 AM
Security concerns could scupper Zelensky's Brussels trip
Ukrainian President Volodymyr Zelensky has been invited to take part in a summit of EU leaders in Brussels on Thursday.
If he attends, it would be only his second foreign trip since the invasion began, after his surprise visit to Washington in December. The EU is a key ally for Mr Zelensky and senior officials visited him for a summit in Kyiv last week.
However, his trip to Brussels is in doubt amid security concerns after details of the potential visit were made public.
11:04 AM
UK must replenish weapons stockpile, says Labour
Weapons sent to Ukraine must be replaced or the UK risks the British Army being "left short", Labour's shadow defence secretary has said.
In an interview with The Daily Telegraph, John Healey insisted that Ukraine would have his party's full support, however warned that if the UK is to continue arming the country there needed to be a commitment that Britain's own weapons stores are well stocked.  
"There is an immediate need for a stockpile strategy to sustain support for Ukraine and re-arm Britain, or our forces could be left short," he said.
Read the full story from Defence Editor Danielle Sheridan.
10:45 AM
Ukraine reports record Russian deaths as Moscow presses offensive in east
Ukraine says the last 24 hours were the deadliest of the war so far for Russian troops, as Moscow hurls tens of thousands of freshly mobilised soldiers and mercenaries into relentless winter assaults in the east.
The Ukrainian military said 1,030 Russians died yesterday, describing it as the highest daily toll of the war so far.
The figure could not be independently verified and battlefield losses are notoriously difficult to estimate. But the unprecedented scale of reported casualties fits accounts from both sides that describe recent battles in snow-covered trenches as the deadliest combat of the war so far, despite little progress by either side at the front.
10:26 AM
Kamala Harris to attend Munich Security Conference
US Vice President Kamala Harris will travel to the Munich Security Conference next week, just days before the anniversary of Russia's invasion of Ukraine, her office said in a statement on Tuesday.
"The vice president's engagements in Munich will demonstrate transatlantic unity and resolve; US global leadership; and our enduring commitment to support Ukraine," the statement said. Harris will give a speech and meet with foreign leaders.
The Munich Security Conference is a major international security conference held annually in Germany. It acts as a key forum on security policy for Nato and EU member countries.
Ms Harris is expected to discuss Washington's future support for Ukraine, as the country readies itself for an expected Russian offensive to mark the one year anniversary of the invasion on Feb 24.
10:16 AM
Ukrainians train in UK on AS-90 artillery guns
Ukrainian servicemen arrived in the UK this week to train on the AS-90, an armoured self-propelled artillery weapon that the UK is providing to Ukraine to support its fight against Russia.
The UK announced in January that about 30 AS-90s would be sent to Ukraine and that Ukrainians would be brought to the UK for training on how to operate them.
09:47 AM
Taiwan to speed up drone development, learning from Ukraine
Taiwan will speed up development of drones for military use taking into account the lessons of the war in Ukraine and the threat posed by China, the island's defence ministry said on Tuesday.
Unmanned aircraft have played a crucial role on both sides since Russia launched a full-scale invasion of Ukraine in February last year. Ukraine's defence minister has said that he regarded drones as the future of modern warfare.
Taiwan, which is facing a growing threat from China to use force to bring it under Beijing's control, has repeatedly said it is closely watching the war in Ukraine and learning lessons it could apply to fight off a Chinese attack, including how Ukraine has resisted a numerically-superior force.
"Responding to the present enemy threat and using the general experience of drones in the Ukraine-Russia war, in order to construct an asymmetric combat power for our country's drones, the defence ministry is speeding up research and development and production of various drones," Taiwan Defence Ministry spokesperson Sun Li-fang told reporters on Tuesday.
09:19 AM
Only "psychological barriers" separate Ukraine from Western jets
Ukraine is working to secure its first squadron of foreign fighter jets from Western partners, with only "psychological barriers" preventing the transfer, according to Ukraine's Foreign Minister. 
Ukraine has been campaigning for modern Western fighter jets in recent weeks but several key partners including the US have ruled it out for now as fears of escalation persist.
But Foreign Minister Dmytro Kuleba noted that the same fears once stood in the way of Ukraine receiving HIMARS and tanks, among other weaponry and equipment that it now has.
He added that fears about the consequences of providing Ukraine with these resources had not come to fruition and urged a decision on jets as soon as possible.
08:56 AM
Ukraine withdraws 19m Russian books from libraries
Ukraine has withdrawn at least 19 million copies of Russian-language or Soviet-era books from its libraries, a senior lawmaker said on Monday.
Yevheniya Kravchuk, deputy head of the Ukrainian parliament's committee on humanitarian and information policy, said that of the 19 million books, 11 million were in Russian.
"Some Ukrainian-language books from the Soviet era are also written off," Ms Kravchuk said.
"There are also recommendations to write off and remove books whose authors supported armed aggression against Ukraine."
It was not immediately clear what happened to the withdrawn books.
Russia has been accused of burning Ukrainian books in occupied areas.
08:42 AM
Russian war strategists making 'unrealistic' plans under political pressure
Russia's war strategists are producing "unrealistic" plans for major offensives due to "political and professional pressure", according to the UK Ministry of Defence.
The MoD said on Tuesday that Russia does not currently have enough munitions or men for successful offensives but that "Senior commanders likely make plans requiring undermanned, inexperienced units to achieve unrealistic objectives due to political and professional pressure."
It added that "Russian leaders will likely continue to demand sweeping advances" but that "It remains unlikely that Russia can build up the forces needed to substantially affect the outcome of the war within the coming weeks."
08:27 AM
Russia has 'run out of munitions and men for successful offensives'
Russia has been attempting to launch a major offensive for weeks now but doesn't have enough munitions or men to achieve a breakthrough, according to the UK Ministry of Defence.
Movement in the war has been largely stalled in recent months as both sides prepare for new offensives. Ukraine is believed to be waiting for supplies from the west.
Meanwhile, "It is highly likely that Russia has been attempting to re-start major offensive operations in Ukraine since early January 2023," the Ministry of Defence said in its morning intelligence update on Tuesday. "Its operational goal is almost certainly to capture the remaining Ukrainian-held parts of Donetsk Oblast."
Yet "Russian forces have only managed to gain several hundred metres of territory per week. This is almost certainly because Russia now lacks the munitions and manoeuvre units required for successful offensives," the ministry said.
08:09 AM
Switzerland could break neutrality to support Ukraine
Switzerland is close to breaking with centuries of tradition as a neutral state, as support for Ukraine puts pressure on the government to end a ban on exports of Swiss weapons to war zones.
Under Swiss neutrality, which dates back to 1815, Switzerland will not send weapons directly or indirectly to combatants in a war. Buyers of Swiss arms are legally prevented from re-exporting them.
But calls from the public and Switzerland's EU neighbours to allow such transfers to Kyiv are growing louder, and parliament's two security committees have now recommended that the rules be eased.
However, lawmakers remain divided on the issue.
07:54 AM
£1.5 billion of UK property 'owned by investors with Kremlin links'
Almost 52,000 UK properties are owned by anonymous investors, including some "close to the Kremlin", according to a new report, despite laws seeking to stop dirty Russian cash after Moscow's invasion of Ukraine.
Properties together worth more than £6.7 billion – particularly luxury London real estate – have been purchased "with suspect funds" via "secretive offshore companies", anti-corruption campaigners Transparency International UK said in a report.
More than a fifth, or £1.5 billion, was ploughed into property with "suspect funds from Russia, including those subject to sanctions and close to the Kremlin", it added.
The report comes after Britain launched a legal crackdown last year on Russian money coming from shell companies, tax havens and opaque ownership structures.
The government launched a new "Register of Overseas Entities", requiring foreign companies to declare the ultimate beneficiary of any property they hold in the UK. But campaigners say the register remains open to abuse.