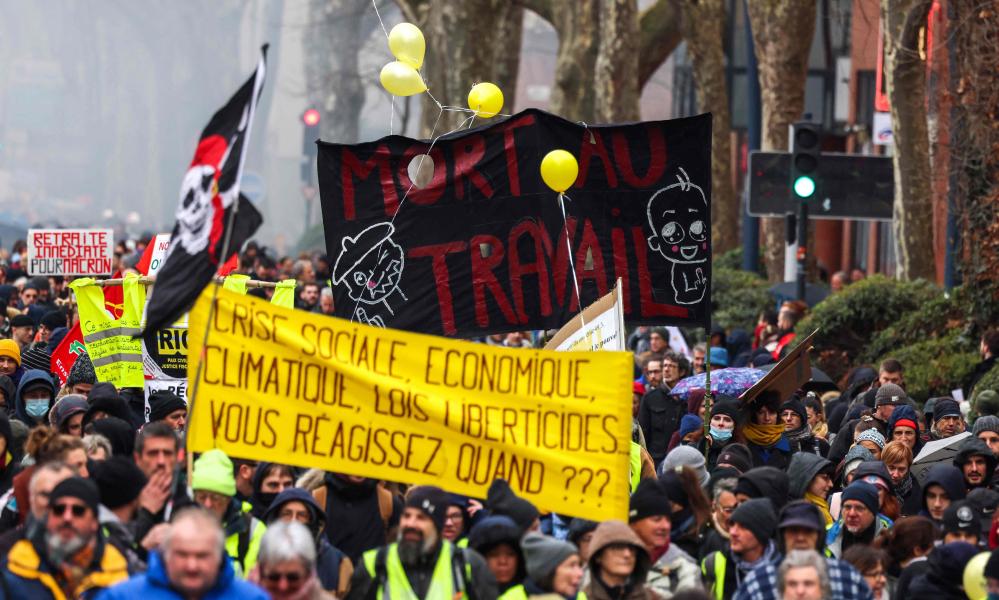 France is facing a third day of strikes and mass street demonstrations against Emmanuel Macron's unpopular plan to raise the pension age to 64, after the government faced shouting and booing in parliament as lawmakers began debating the bill.
Hundreds of thousands of people were expected to take part in more than 200 street demonstrations across France on Tuesday, from major cities to small towns. Trains and urban transport will be severely disrupted, and one in five flights at Paris's Orly airport will be cancelled. Some schools will close as teachers strike. Students are also blocking several university buildings across France.
Polls continue to show that a majority of French people disapprove of Macron's plan to raise the retirement age to 64 and to increase the number of years people must make contributions for a full pension. The current retirement age of 62 is the lowest of any major European economy.
Related: Macron's credibility on the line amid protests over pension changes
Macron's ruling centrist grouping faced furious scenes of shouting and desk-banging in parliament on Monday night at the start of the debate on the plans.
Macron's centrists are in a weakened position in parliament after losing their absolute majority in a general election last June. In order to pass the pensions bill, they are facing tense negotiations to convince lawmakers from the rightwing party Les Républicains to back them. Without support from the right, the government could in theory resort to controversial executive powers to push through the plans without a vote. But the prime minister, Élisabeth Borne, wants to avoid this, conscious of the uproar and further protests it could cause.
In heated scenes in parliament on Monday, ministers at first struggled to be heard as opposition on the left shouted that they had brought "chaos" to the country. "Are we really going to spend 15 days like this?" asked Macron's leader of the house, referring to the length of the debate and the shouting and interruptions. "Yes!" lawmakers on the left shouted back as desks were banged.
"The younger generations hate you," one lawmaker on the radical left told the government. Rachel Keke, who is the first cleaner to sit in parliament after winning a seat for the radical left's La France Insoumise in June, won a standing ovation from the left's benches after a speech accusing government ministers of being cut off, never having done a difficult, physical job and not understanding what it's like "to wake every morning with an aching back".
Gabriel Attal, the minister for public accounts, said the government was acting to save the French pension system and the options were: Macron's plans or the potential "bankruptcy" of the system.
The far-right leader Marine Le Pen announced that several of her female lawmakers had received suspicious and fraudulent voicemail messages to their phones during the debate, telling them that their child was in hospital. She complained of a "disgusting" trick to get her lawmakers to rush away from parliament during the vote. She said she had filed a legal complaint to police but did not say who could have been responsible.
A further day of street demonstrations is planned for Saturday.