LIVE – Updated at 13:01
Reports PM may consider taking UK out of European convention on human rights if that stops courts blocking plan to ban people arriving in small boats.
No 10 delivers rebuke to Truss, saying it values OBR for its 'credible, high quality' analysis
13:01
Rishi Sunak is fond of reading long and detailed government reports. But No 10 was unable to say this morning whether or not he had ploughed through Liz Truss's 4,000-word Sunday Telegraph article, which has been much criticised for its suggestion that almost everyone was to blame for the failure of her disastrous mini-budget apart from herself.
Asked if Sunak agreed with Truss's claim that Britain was being held back by "economic orthodoxy" that was anti-growth (she implied in the article Sunak was part of that, but did not say so explicitly), the spokesperson declined to engage with the argument.
But he did implicitly slap down Truss over one aspect of her argument. In her article she criticised the Office for Budget Responsibility, saying that the way it modelled economic policy "tends to undervalue the benefits of low taxes and supply-side reforms for economic growth, and overvalue the benefits of public spending".
She said this was one reason why taxes kept going up.
This [the bias in the OBR approach] inevitably puts pressure on a higher-tax and higher-spend outcome – hence the inexorable tax rises we are now seeing.
At the lobby briefing, without even being asked specifically about the OBR, the spokesperson said:
In broader terms, we value the scrutiny of independent bodies like the OBR. The chancellor is working closely with them in the lead up to the spring budget, as you would expect. And they will have a role in providing independent, credible and high quality analysis.

We are making the fiscal decisions to get inflation down, which in turn will help us grow the economy. And you will hear from the chancellor in more detail shortly. The prime minister at the least was I haven't actually been able to ask him that question. So see widespread coverage. You read it I don't ask questions about myself.
Asked if the PM welcomed his predecessors contributing to the public debate, the spokesperson said: "Of course the prime minister will listen to all former prime ministers."
Unite says it is 'tantalisingly close' to agreement on pay with Welsh government
12:49
On Friday the Royal College of Nursing and several other health unions called for strikes planned for Wales this week after the Welsh government made fresh proposals on pay. But Unite, which represents some ambulance staff, said it was not calling off its strike because it was still negotiating.
Today Sharon Graham, the Unite general secretary, said her union was "tantalisingly close" to a deal with the Welsh government. She said:
The reason that we're still out in Wales is that it would be disingenuous for us to put an offer to pause the strike in the full knowledge the offer was going to get rejected.

What we want is not a sticking plaster – we want to have a deal on the table that will be accepted.

I spoke to the health minister in Wales on a number of occasions yesterday; we're tantalisingly close.

The sticking point really is [of the] the extra 3% – half of it is on non-consolidated, so therefore it's a one-off payment.

And what we're simply asking is to put more of that on the wages, so that people have that forever, it's in their pay packet, because that will address some of the concerns.
No 10 says Sunak 'confident' his asylum crackdown will comply with ECHR – but won't firmly rule out withdrawal in future
12:49
At the morning lobby briefing Downing Street insisted that the bill due to be published soon intended to stop people arriving illegally in the UK on small boats from ever claiming asylum in the country would be compliant with the European convention on human rights.
Asked if the government was planning to withdraw from the convention, the PM's spokesperson said:
I think there's been a great deal of speculation. I think you've heard from the prime minister himself where he said, first and foremost, he wants to put an end to the exploitation of our laws through reform of that system.

We will, of course, comply with all our international obligations, and we are confident the measures being worked through will tackle the problem while being compliant with the ECHR [European convention on human rights].
But none of the reports about what the proposed bill will do (like yesterday's – see 11.20am) say the legislation will propose withdrawal from the ECHR. Instead what is being claimed is that, if the courts do subsequently block the Sunak plan on human rights ground, at that point he would consider proposing withdrawal – possibly as a pledge for the next general election.
Asked about this, the spokesperson said he did not want to get into "unsourced speculation on future plans". Asked if there were any circumstance in which Sunak would recommend withdrawal from the ECHR, the spokesperson said:
As I say, I think you will see, when we set out our plans fairly shortly, that we seek to be compliant with our international obligations.
Some Tories think the proper answer to this question is: No. (See 11.20am)
Asked a second time if he could rule this out, the spokesperson said:
There are no plans for the government to take that approach. The policy, both in terms of this and elsewhere, is to be compliant with our international obligations.
12:41
There are two urgent questions in the Commons after 3.30pm, both tabled by shadow cabinet ministers. Wes Streeting, the shadow health secretary, is asking about the NHS strikes, and Ed Miliband, the shadow climate change secretary, has tabled a UQ about energy companies forcing customers to have prepayment meters.
Starmer says people will be 'flabbergasted' ministers refusing to negotiate with health unions on current pay offer for England
12:11
Keir Starmer has condemned the UK government for refusing to reopen talks with the unions on pay for health staff in England. He said people would be "absolutely flabbergasted" that ministers were refusing to negotiate.
Speaking to reporters on a visit to Airbus in Filton, near Bristol, Starmer said today's NHS strikes were "a badge of shame for the government". He went on:
Nobody wants to see these strikes, nobody wants to be on strike – the last thing nurses want to do is to be on strike.

What they do want is a government that can show leadership, get around the negotiating table and settle this dispute.

Before Christmas, the nurses made clear that if the government was to get in the room and talk to them about pay, they wouldn't be on strike.

I think many people listening to this will be absolutely flabbergasted that the government is still sitting this one out, not showing any leadership in the middle of a cost-of-living crisis, making the situation much worse than it otherwise would be.
Ministers say there have been talks, but the government says it will not reopen the pay offer for the current financial year and the unions say there are no talks taking place on the current pay offer.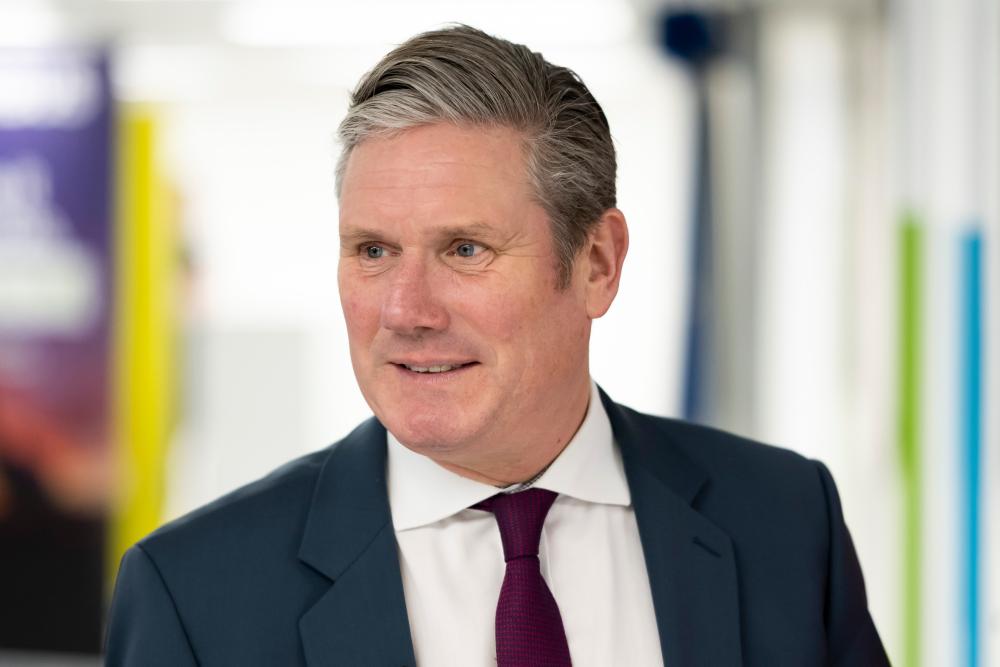 12:10
11:59
Sharon Graham, the Unite general secretary, has also criticised ministers again for refusing to engage in meaningful talks on pay. She told PA Media this morning:
This government has not at any time in this dispute come to the table about the substantive issue on pay, and that is the real issue. There isn't going to be any other way to end this dispute until they come to the table and talk about pay.

They said on many occasions that they're in constructive talks; first of all, I don't know what those constructive talks are – they are certainly not on pay.

And, secondly, I can't put constructive talks on a ballot paper. What we need is the talks to happen with Rishi Sunak or/and Stephen Barclay on pay, we can get an offer and then we can put that off to the members.

That's what needs to happen. Until that happens, we are in this constant cycle of having strike action, which obviously nobody wants.

Our members do not want to be on strike. They want to be at work serving the country.
11:40
Here is a Guardian video by my colleagues Adam Sich and Maeve Shearlaw on why so many public sector workers have been on strike this winter.
Sunak warned taking UK out of European convention on human rights would cross 'red line' for many Tory MPs
11:30
Senior Tories have expressed concern about reports that Rishi Sunak may be willing to take the UK out of the European convention on human rights if that turns out to be the only way to stop the courts blocking his plan to ban all people arriving in small boats across the Channel from claiming asylum in the UK.
Sunak has promised to publish legislation to implement this promise shortly and, according to a report by Tim Shipman in the Sunday Times, this could put the government on course to make withdrawal from the EHCR a manifesto commitment at the next election.
In his story Shipman said:
Sunak and Suella Braverman, the home secretary, are finalising plans for the most draconian immigration legislation seen in this country. Officials say the plans, to be unveiled within weeks, will take Britain to the "boundaries" of international law.

But senior figures say if judges at the European court of human rights in Strasbourg rule that the new plans are unlawful, the prime minister is open to withdrawing from the convention.

"The PM has been clear he wants to introduce legislation that meets our international obligations," a source familiar with Sunak's thinking said. "This bill will go as far as possible within international law. We are pushing the boundaries of what is legally possible, while staying within the ECHR. And we are confident that when it is tested in the courts, we will win.
Sir Robert Buckland, a Tory former justice secretary, told the Financial Times that leaving the convention, which is overseen by the Council of Europe, would be a mistake. He said:
It would be an undesirable state of affairs if the UK was to follow Russia out of the Council of Europe … I don't think there would be a majority for it.
Sir Bob Neill, the Conservative chair of the Commons justice committee, told the same paper that this would be a "red line" for many people in the party. He said:
If Conservatives don't believe in the rule of law, what do we believe in? Are we going to put ourselves in the same company as Russia and Belarus?

It's not a virtue to push the law to the limits. Adherence to and membership of the ECHR is a red line for many Conservatives. It would be unbelievable for a Conservative government to leave it.
According to Eleni Courea, in today's London Playbook briefing from Politico, the Tory backbencher Jackie Doyle-Price also dismissed that idea in a message on a WhatsApp group for Conservative MPs. In a message seen by Courea, Doyle-Price said that "willy waving about leaving the ECHR will do zilch". Doyle-Price went on:
I have been a member of the Conservative party for 36 years. This group leaves me cold. Upholding the law should never be a matter for debate for a Conservative. Our Home Office is crap. If the government wants to have a phone[y] war over the ECHR instead of sorting itself out it can do it without me.
10:59
Tony Connelly, RTE's Europe editor, has a report revealing new details of what he says has been agreed between the UK and the EU on the Northern Ireland protocol.
He says the EU has accepted the UK demand that goods going from Britain to Northern Ireland that are not meant to cross the border into Ireland should be treated separately from goods that are destined for Ireland (which is in the EU). Crucially, Connelly says, this NI-only "green lane" will cover sanitary and phytosanitary rules, as well as customs requirements.
Goods going through the "green lane" will be subject to minimal checks and scrutiny, and Connelly says this is because the EU now has access to GB customs data in real time. He reports:
According to how the IT-based system will work, information in real time will show if there are any suspicious movements between GB and Northern Ireland, and if red flags are raised lorries can be checked by UK Border Force …

[The senior EU official] would not be drawn on whether goods entitled to use the green lane would be exempt from all customs declarations, including the need for traders to pre-fill so-called commodity codes electronically in advance, and SPS formalities.

Given that EU officials will be entitled to download information on the content and form of goods going through the virtual green lane, it is assumed that a degree of data will be required.
Connelly says that the row over the role of the European court of justice in adjudicating on protocol disputes is still "difficult" and he quotes a source suggesting a deal is unlikely to be announced this week.
RCN leader Pat Cullen says ministers have talked to unions, but not about pay
10:58
Pat Cullen, general secretary of the Royal College of Nursing, has accused ministers in England of refusing to discuss pay with health unions. Despite Maria Caulfield, the health minister, saying this morning that talks did take place last month (see 9.14am), Cullen said that in her three meetings with Steve Barclay, the health secretary, he was willing to discuss "anything but pay".
She told Times Radio:
We can't get to a table in England. The nurses in England have found that this government time and time again, has just turned their back on them, and I've said loud and clear, punishing them.

I wrote to the prime minister on Saturday, and I've yet to get a response, knowing that there's two days of industrial action today and tomorrow, that is no way to treat the nurses of England.
Caulfield claims 'vast majority' of hospital patients in England won't be affected by today's strike
09:56
And here are some more lines from Maria Caulfield, the health minister, speaking for the government on the morning interview round.
Caulfield claimed that the "vast majority" of hospital patients in England would not be affected by today's strikes. She told LBC that "less than half of all trusts in England" were experiencing nurse strikes. She went on:
For the vast majority of patients, they won't be affected in terms of going to procedures and appointments and operations.

If their trust is affected, they would have been in touch with them to let them know what's happening.
She expressed doubt that the increased pay offer to health workers in Wales would resolve the strikes. Most health unions in Wales called off this weeks after the Welsh government tabled a revised offer so that their members can consider it. But, when asked why the UK government was not doing the same for health workers in England, Caulfield told the Today programme:
The offer in Wales, 3%, is only actually a 1.5% pay increase, and then another 1.5% lump sum payment. And that is being put to members in Wales. A much higher offer was put to members in Scotland before Christmas and was rejected. So we are in no means in Wales out of the woods in terms of a deal being done.
She insisted that offering an above-inflation pay high rise to nurses would fuel inflation. But when the Today presenter Justin Webb put it to her paying staff more in the NHS would not lead to prices going up (as paying staff more does in firms that fund pay rises by charging customers more), and asked Caulfield to explain what the "mechanism" was by which a pay rise would fuel inflation, Caulfield dodged the question. She replied:
It's not just about fuelling inflation. It's paying for it.
When Webb put it to her that the government's case wasn't, then, about the inflation risk after all, Caulfield replied:
It's a combination of both. If you give above-inflation pay rises, that would in fuel inflation. But we're talking about – in Wales they've got 3% on the table. But we have to pay for it.

And at the moment we are borrowing record amounts of money. We're seeing interest rates that have gone up because we've got record levels of borrowing. So it is the whole financial picture that has to be taken into consideration.
She said the decision by health unions to withdraw from the pay review body process for England for 2023-24 "doesn't help at all".
She said it would be "extremely difficult" to include this year's pay settlement in any fresh talks with unions.
She admitted that today's strikes posed a risk to patients. She told Sky News:
There is a risk to patients the longer that strikes go on.

So if your operation is cancelled the first time, there is probably a minimum risk. If that's cancelled time and time again because of ongoing strikes, then patients become more poorly and there is always a risk.

And with ambulance strikes, if someone's having a heart attack or a stroke, that does increase someone's risk the longer that response time is.
Health minister Maria Caulfield hits back at claim government no longer talking to unions on pay
09:25
Good morning. Scotland and Wales have had devolved governments for more than 20 years, but it probably was not until Covid that people realised the extent to which, when it comes to health policy, the UK government is just an England government. Today England is seeing what is being described as the worst day of disruption in health this winter, with nurses and ambulance staff both on strike. But health workers are not on strike in Scotland, and there is only a limited ambulance strike in Wales by members of the Unite union. England is different because the Scottish and Welsh governments have made improved pay offers, but the UK England government is not doing the same.
Yesterday Sharon Graham, the Unite general secretary, said UK government ministers were lying when they said pay talks with unions were still taking place.
Related: Government lying about NHS strike negotiations, Unite union leader claims
This morning Maria Caulfield, a health minister, was the government's designated voice on the morning interview programmes. She did not have anything new to announce, but she hit back at claims that ministers were unwilling to talk to the unions. She told the Today programme:
What I would say … to the RCN, as [is] happening in Scotland, they've called off the strikes to discuss the forthcoming year's pay settlement from April, which is just a few weeks away – do the same in England.

The secretary of state's been meeting in January, almost on a weekly basis, with a range of health care unions. So the door is firmly open. And I would ask the RCN and the ambulance unions to get back round the table.
I will post more from Caulfield's interview round shortly.
Here is the agenda for the day.
11.30am: Downing Street holds a lobby briefing.
Morning: Keir Starmer and Jonathan Reynolds, the shadow business secretary, are on a visit in Bristol. Starmer is expected to record a TV interview.
2.30pm: Suella Braverman, the home secretary, takes questions in the Commons.
Afternoon: Peers debate the retained EU law (revocation and reform) bill.
5pm: Spectator TV broadcasts its interview with Liz Truss – her first since she left No 10.
I'll try to monitor the comments below the line (BTL) but it is impossible to read them all. If you have a direct question, do include "Andrew" in it somewhere and I'm more likely to find it. I do try to answer questions, and if they are of general interest I will post the question and reply above the line (ATL), although I can't promise to do this for everyone.
If you want to attract my attention quickly, it is probably better to use Twitter. I'm on @AndrewSparrow.
Alternatively, you can email me at [email protected]
Robert Buckland confirms row with Dominic Raab when both were in cabinet over British bill of rights
09:18
Robert Buckland has confirmed that he and Dominic Raab had "a disagreement" when they were both in cabinet, after it was reported Raab tried to get Buckland sacked as Welsh secretary last year amid a fallout over policy, my colleague Peter Walker reports.
Related: Former Welsh secretary confirms 'disagreement' with Dominic Raab
Would you like to receive notifications on latest updates?
No
Yes